Plastic is often looked at as a material to easily discard after use. The ingenious minds of the New Silver City Secondary School (NSSS) in Linden, however have taken the very old boring plastic and transformed it into a beautifully adorned bridal outfit in addition to living room furniture and washroom utensils.
Their plastic products were part of a Linden Enterprise Network's (LEN) plastic recycling competition in which the NSSS was adjudged the winner. Three schools participated in the competition and Chief Executive Officer of LEN Tanniza Gasper said that the competition aimed at driving home the green agenda in schools and the importance of adapting to this strategy in the wider Linden.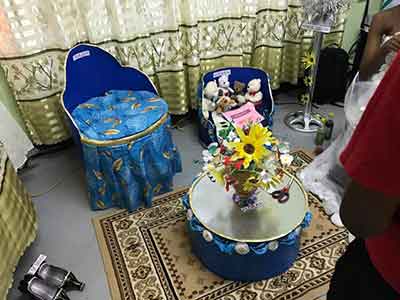 Headteacher of NSSS Odette Thomas said that the project was completed through a collaborative effort by all of the teachers who were placed in three groups. All of the materials were sourced in Linden. The bridal wear was made with white plastic, elastic, glue, spray paint and other local materials. The home furnisher was made from plastic drums and other plastic material for the décor. The design was done by the Art teacher of the school, while the shaping was done by Technical Drawing teacher.
Plywood and sponge were also used to give the chairs a solid support as well as comfort. Thomas revealed that the seats serve a dual purpose since the seating can be lifted up and the body of the chair used as a storage for cushions and other items. For the washroom, plastic bottles were used to produce toilet paper holder, soap dish, and a cup holder. Plastic was also used to make a bouquet which is currently accessorising the HM's table while vases were made out of straw to accessorise the Home Economics Department.
LEN has engaged the diaspora in purchasing the products while the monies are to be used for similar community projects. Thomas said that the teachers will be throwing the idea out to the students for them to engage in similar projects so as to garner an appreciation for recycling and the green initiative.