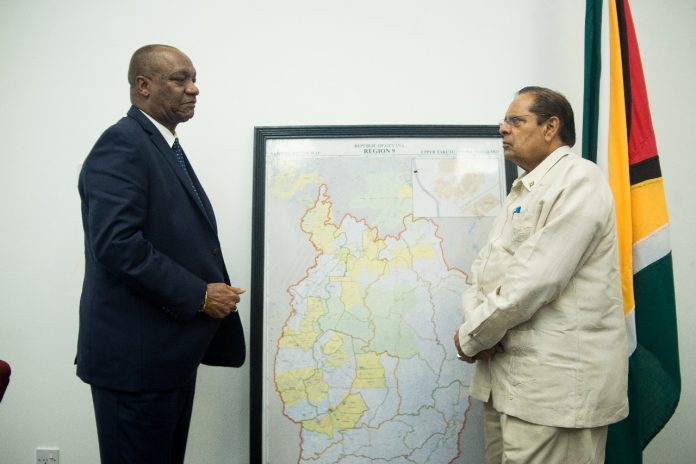 …as govt responds to flood situation 
Minister of State Joseph Harmon, this morning, briefed Prime Minister Moses Nagamootoo, who is performing the functions of President on the flood situation in Lethem and Tabatinga.
Prime Minister Nagamootoo was updated that waters in the area have risen up to five feet between 05:00hrs and 11:00hrs yesterday, Wednesday July 4, and that 25 residents were evacuated and are being housed at the Culvert City Primary School, Tabatinga Community Centre and the Amerindian Hostel.
Prime Minister instructed that Minister within the Ministry of Public Infrastructure Annette Ferguson be dispatched to Region 9 to assess the state of public infrastructure in the area.
Further, Minister Harmon will lead a team, which will include Civil Defence Commission(CDC)  officials, to Lethem and Tabatinga 
tomorrow
, 
Friday July 6
.
Prime Minister Nagamootoo had also been briefed by phone by Region 9 Chairman Brian Allicock last evening.The RDC is managing the situation and CDC will provide support.