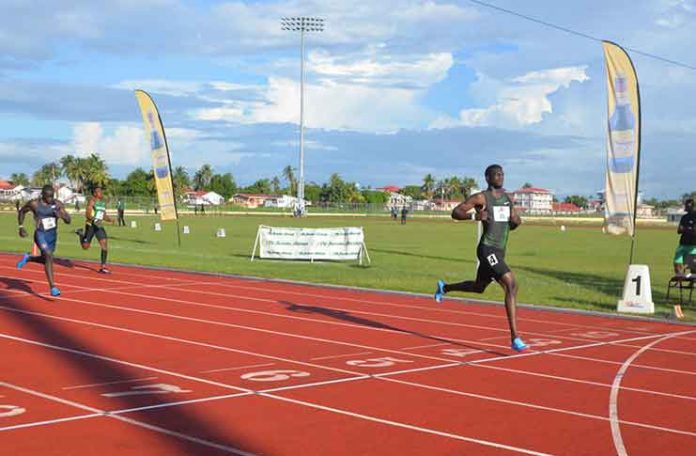 – …Archibald dazzles to win men's 100 metres
HE came, he saw, and he conquered, and he also entertained– Kirani James. The crowd at the Aliann Pompey Invitational stood in 'awe' as the 2012 Olympic Champion and 2016 Olympic silver medallist clocked 44.99 seconds to not only win the 'AP' Invitational 400 metres, but also set a new 'Track Record'.
Prior to last evening, Guyana's Winston George ran 45.16 seconds at last year's AP Invitational, which was then the fastest time ever at the National Track and Field Centre and also a national record.
"I actually came to put on a show and run a good time, but the track was wet, so I just had to ensure that I took my time," a calm James told reporters after the race.
Chidi Okezie, the 2016 African Championship bronze medallist of Nigeria was second, running 45.97 seconds and George was third with 46.13 seconds.
Prior to coming to Guyana, James ran 44.35 seconds, the ninth fastest time in the world this year. "I'm good with my time today (at the AP Invitational) because as I said, the track is wet and I'm now getting back on track. This was my second race in over a year and I'm happy with the progress," said James.
Meanwhile, Emanuel Archibald ran a blistering 10.29 seconds to win the men's 100 metres event ahead of Trinidad and Tobago's Kyle Greaux (10.39 seconds) and Yancarlos Martinez of the Dominican Republic (10.43 seconds).
Greaux would, however, return to win the men's 200 metres with a time of 20.43 seconds, while Martinez was second (20.80 seconds) and George came third in 20.87 seconds.
Donald Scott spoiled Troy Doris' home coming in the men's triple jump as the American leaped 17.22 metres to take the title ahead of Cuba's Christian Napoles (16.96 metres) and Suriname's Miguel Van Assen (16.67 metres).
Doris, who settled for fourth (16.09 metres), told Chronicle Sport that while he was disappointed with the placing, he was comfortable with the result, knowing that it was his first meet back since his injury at the Commonwealth Games where he won gold in the event.
See tomorrow's issue for more details.