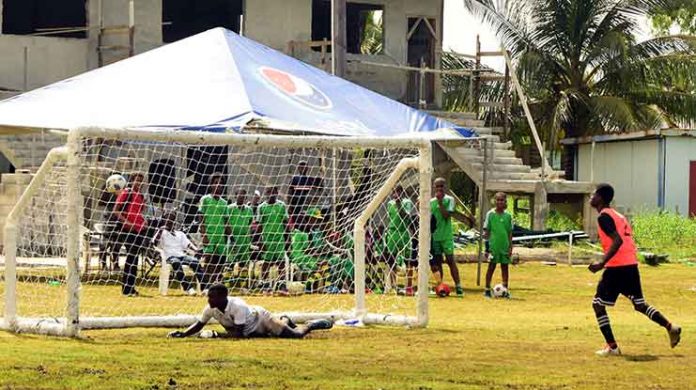 Big wins for Tucville boys, South Ruimveldt girls
There were big wins for South Ruimveldt Girls and Tucville boys as the ExxonMobil U-14 Schools Football tournament continued in Georgetown yesterday.
In girls action, South Ruimveldt demolished Tucville 5-1 thanks to a hat trick from Amanda McKenzie (12th, 18th and 22nd) while Latisha Sutherland (6th) and Angel Denny (16th). They conceded to Kixian London in the 7th minute.
New Campbellville were also winners as the ladies' round robin competition continued, beating Dolphin 1-0 thanks to Grace Jones in the 9th.
Charlestown also completed a win over East Ruimveldt by the same margin via a Donna Lowe strike in the first with Vergenoegen bewating Uitvlugt 2-0 thanks to Janel Edmonson (9th) and Tia Lamaison (20th).
In the Round of sixteen action for the males, St George's scraped through on 3-2 sudden death penalties as their match against Marian Academy was deadlocked 2-2 at the end of regulation time.
Marian had Daniel Lowe and Malik Barker on target for them while St George's Dexter Hector (16th and 31st) ensured that his brace did not go in vain.
Vergenogen were also winners, beating East Ruimveldt 2-0 thanks to Kwesi Gill in the 3rd and Nashaun Livan in the 37th.
Chase's 7-0 drubbing of Uitvlugt came chiefly from Kevin Mullin who scored four goals in the 3rd,29th 30th and 40th while there were single strikes from Jaleel Alcindor (25th), Sean Cato (26th) and Joshua Daniel (36th).
Tucville were however outlandish, as they beat Carmel 9-0 with four strikes in the (3rd, 11th, 23rd and 24th) from Rayheam Marques, braces from Garfield Caesar (14th and 37th) and Dwayne Kellman (5th and 31st) and a lone strike from Shadrock Bishop.
South Ruimveldt went down 1-3 to St Johns College after De Andre Allen's strike was no match for David Xavier (3rd), Akeel Bennett (13th) and an own goal (19th).
Buxton were also winners on the day with a 7-0 drubbing of Anns Grove thanks to Makhaya Jervis (29th,32nd and 37th) while support came from Samuel Garnett (8th and 10th), Tyrice Dennis (9th) and Ronald Howard (35th).
North Ruimveldt beat Queenstown 3-0 after Shaquan Favorite (27th), Orlando Dickie (32nd) and Yannick Norton (38th) each found the back of the net.
The final game of the day saw Dolphin beat Annandale 3-1 on penalties after the game was tied at 1-1
The tournament is co-sponsored by the Ministry of Public Health and Demerara Distillers Limited under their Pepsi Brand.