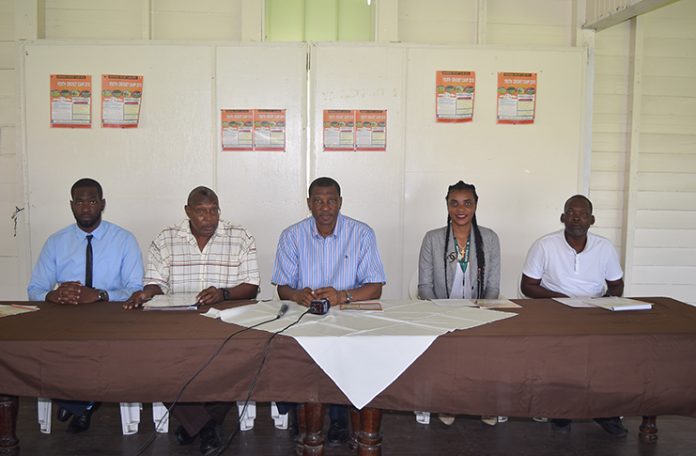 AIMED at identifying the next generation of cricketing talents, the Demerara Cricket Club (DCC) yesterday launched a 10-day summer programme at its Queenstown clubhouse, also referred to as the Home of Legends.
Billed from August 13-24, the camp is aimed at exposing participants to the fundamentals of the sport, both on and off the field.
Targeting 120 youths, both males and females under the age of 18, the participants would be under the watchful eyes of the camp's Technical Director/Coach Mark Harper.
The former Guyana batsman would be supported by Gavin Nedd, and former West Indies test players: Travis Dowlin, Reon King and Roger Harper, along with national fast bowler Paul Wintz.
The older Harper (Mark) in an overview of this year programme, stated that apart from the fundamentals of the sport, the camp will include classroom style sessions, as well as master classes, where the older participants will learn more about the art of spin and seam bowling, batting and fielding.
Also making brief remarks was coach Nedd, who pointed out that the camp is aimed at producing and identifying future talents, since over the years a number of players who have passed through the programme went on to represent Guyana and West Indies at different levels.
The summer initiative has been running for a decade now and has produced the likes of Ashmead Nedd, Sachin Singh, Raymond Perez, Sherfane Rutherford, Ronaldo Ali Mohamed, Tevin Imlach and Keemo Paul, all of whom have represented the West Indies at the youth level, while the career of Paul has reached the international stage.
According to Nedd, the club has a proud history of producing some of the most exciting cricketers who've gone on to represent Guyana and the West Indies, among them being Clive Lloyd, Lance Gibbs, Roy Fredericks, Mark and Roger Harper, Andrew Lyght and Lyndon Joseph. With such programme it is the hope that the club can return to those days.
President of the DCC Roger Harper, in his remarks pointed out that the programme is an annual event, which serves not only as a talent-spotting avenue for the club or Guyana, but it has also helped to build the regional team as well.
"We want to produce international cricketers of note," Harper said.
Sessions will be held Monday to Friday from 09:00hrs to 15:30hrs daily and participants are asked to attire in track or short pants, white tee or polo shirts, track boots and socks, along with cricket whites.
Registration forms cost $4000 and can be uplifted at the DCC. For further information, interested persons can make contact with Dennis Squires on 665-7400, Mark Harper on 678-9973, Coach Nedd 617-9391, Mr. Neblette on 686-0333 or DCC on 226-2006.