– breached sea defence being repaired
– as CDC, other agencies activate emergency response
RESIDENTS of San Souci and Merville, Wakenaam Island, Region Three, are counting their losses after high tides, exacerbated by a breach in the sea defence resulted in their homes being inundated on Sunday.
The Civil Defence Commission (CDC) is on the ground assessing the situation and remedial works have already started.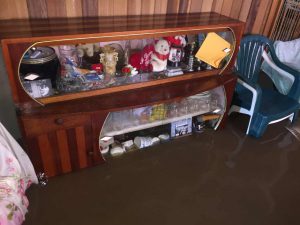 According to information reaching the Guyana Chronicle, the breach occurred on Friday and was sealed, but weaknesses were evident on Sunday.
After being hit with floodwaters, residents contended that the work done by the contractor to seal the breach was poorly done, pointing out that mud and sand was used instead of stones.
According to one resident, Irfaan Ali, over $2 million worth in household items was damaged in his house as a result of the floods. These, he said, included a washing machine, refrigerator, microwave, cabinets, blenders and fans.
Ali, who was not at home at the time of the flooding, said when he revisited his home he could not believe what he saw.
"The entire lower flat was flooded, all the sofa, cabinets, tv sets; everything were under water. Who is going to repay for this? The entire place is flooded with muddy water," he lamented.
On Sunday, persons were busy helping Ali to get the water out of the bottom flat of his home and to move items to higher ground. Other residents were doing the same.
"It's devastating, imagine you work so hard, so long to buy yours things and because of negligence this has happened," another resident said. Residents say they managed to contact the contractor but he was rude to them.
Hours after the villages were hit by the floods, Director General (ag), Civil Defence Commission (CDC) Lt. Col. Kester Craig and other officials visited the affected areas to assess the situation.
Regional Executive Officer Denis Jaikaran, said the region responded swiftly and is providing support to the 12 severely affected residents. Thirty-seven residents suffered minor losses.
Like the residents, Jaikaran believes the contractor should stand the full cost of compensation for doing substandard work.
Lt. Col. Craig said the CDC will be providing cleaning supplies to residents as well as support the regional administration in its efforts.
Thus far, there have been no reports of illnesses and the health centre is proving residents with assistance. It is the first time the CDC has been able to respond and provide supplies on the same day.
The CDC acting director said the region's response is testimony to the efficiency of the Regional Disaster Risk Management Plan implemented two years ago. He informed that the Public Health Ministry will be on standby in the event of any outbreak of vector-borne diseases.
On Sunday evening, engineers from the Ministry of Public Infrastructure were on the ground conducting remedial works ahead of another expected high tide.
The situation is being monitored and supplies are en route to the island.