…Top cop slams magistrate for calling police jokers
…as alleged pirates make second court appearance
Forty-three-year-old Primnauth Persaud, called Sinbad of Cromarty Village and Nakool Manohar, popularly known as 'Fyah' of Number 43 Village were on Wednesday both charged with two counts of murder for allegedly killing fishermen Mahesh Sarjoo and Tillacknauth Mohabir during a piracy attack in Suriname last month.
The men appeared before Magistrate Rabindranauth Singh at the Springlands Magistrates' Court where they were not required to plead to the indictable charge. The charge stated that between April 26 and May 3 at sea, they allegedly murdered Tillacknauth and Sarjoo during the course or furtherance of a robbery.
At the previous court hearing for Manohar, he was charged with the murder of Tillacknauth Mohabir. However at Wednesday's hearing the charges were withdrawn and he was jointly charged with Persaud who is said to be the chief suspect. Given that the charges were withdrawn from Manohar and he is now jointly charged with Persaud and along with a change of date from 27th April to 26th April as well as whether another suspect Alexander Denhearte was being jointly charged with the men, Magistrate Singh commented that the "police are acting like a bunch of jokers," since it appeared they are uncertain as to what charges they want to institute.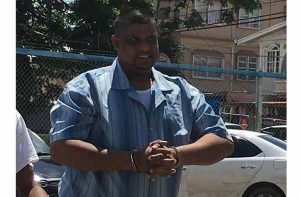 Singh continued that "the court has to work as a balance and cannot take sides." On the first occasion, Manohar was charged with two counts of murder on the same charge sheet, but one was struck out and he was eventually charged with the murder of Tiliknauth Mohabir alone. The comments made by the magistrate however did not sit well with senior officials of the force, who feel his comments were "insulting and reckless and should have never been uttered."
However, in a strongly worded statement, Commissioner of Police David Ramnarine lauded his team for going above and beyond the call of duty in conducting their investigations with due diligence under difficult circumstances and being able to bring those responsible before the courts and upgraded the charges based on legal advice. "It seems quite clear that the magistrate probably has an axe to grind against the team of investigators and maybe other police officers," Ramnarine said.
He added:" this can be reasonably deduced from the fact that he was subsequently removed from presiding over a very high-profile matter of murder in which the very investigators were involved. I can only conclude that his unfortunate and reckless utterances [are] intended to malign these hardworking police officers and our legal advisers are as a result of his youthfulness, inexperience and being unschooled," the commissioner said Emotional scenes
Meanwhile, outside of the court the scene was emotional as many relatives of the fishermen who were killed attended the hearing. The eldest sister of Mahesh Sarjoo, Artie Sarjoo travelled from neighbouring Suriname to attend the hearing as she pleads for justice for her brother who was brutally murdered. "We were very close and went through a lot after our parents died and to lose him in that manner is hard. Since this incident I am very worried and all I can think about is getting justice for him".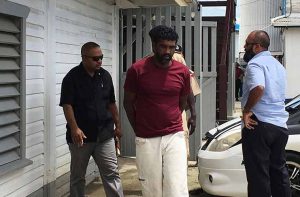 Sarjoo's body was handed over to the family and he was laid to rest on Saturday last. Tarmattie Ibrahim, wife of Denesh Persaud "Vicky", was in tears as she held her two children who are now left without their father when she saw the two main accused exiting the court. Additionally, 75-year-old Doris Harrihar travelled from East Canje to Springlands to get a glimpse of the men allegedly responsible for the death of her grandson Ralph Couchman, called "Burnham," whom she said was her main source of assistance. In tears, she said two days before he left for Suriname he promised her to always take care of her. "The pain that I feel is like part of my life is missing, me and he was good. I had a good relationship with him." The men were remanded and are to return on June 26th for report and fixtures.