– greater attention to be placed on ICT and Guyana as an oil-producing nation
THE Education Ministry has initiated the process of developing a framework for the review of the country's schools curricula spanning nursery to lower secondary. The move, which is deemed necessary, will result in more emphasis being placed on the use of Information Communication Technology (ICT) in the classroom, in addition to the inclusion of Guyana as an oil-producing nation for subjects such as Social Studies and Geography.
Presently, senior education officials, with support from external experts in the field of curriculum development, are pitching recommendations for the development of the Framework for Curriculum Revision at an ongoing consultative workshop at the Ramada Princess Hotel.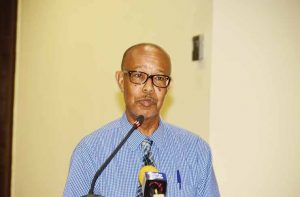 During the opening ceremony of the workshop on Wednesday, Education Minister Nicolette Henry alluded to the fact that Guyana's last extensive curriculum reform was done in 1976.
At this stage of the country's development, Minister Henry said it is critical for Guyana to have a well-thought-out and modern school curriculum. Though the first draft of the revised curriculum could take more than 18 months before it is put together, the Education Ministry, under the watch of Minister Henry, is already placing greater emphasis on ICT.
"This year, I took a policy decision to leapfrog Guyana's education system and instruct that we begin the transition process of including at least 30 per cent of our programme budget to reflect ICT and modern thinking that is new and different, and in some instances it means doing old things using different methodology," Minister Henry told the senior education officials.
In this day and age, the education minister said it is important for young people to be taught more than just the traditional skills, such as literacy and numeracy.
Though important, these skills, she emphasised, must be complemented by skills such as collaboration, problem-solving, and creativity.
"Children cognitive, social and emotional abilities must be brought to bearing [sic] in developing their breadth of skills. Our schools should create fertile environments where ideas can be tested, critical understandings developed, questioning is encouraged, learning occurs utilising all the senses, and imaginations are allowed to soar. These environments should be nurtured by teachers who are innovative, not afraid to teach to children's strengths; be it through the use of technology as they are tech natives, or making classroom adaptations to accommodate the unique learning needs of a child with a disability," she added.
It is her view that a robust curriculum is one that does not operate in content silos, but one that highlights and encourages subject integration.
NECESSARY
Weighing in on the issue, Chief Education Officer Marcel Hutson said the revision of the curriculum is necessary for the country to be on par with international standards.
"In the context of Guyana, there is need for change. There must be change, if we are going to be relevant, if we are going to be in line with what the international standards are, it is necessary that we have our curriculum review," Hutson said.
It was explained that the development of an effective curriculum is a multi-step, ongoing cycle that ranges from evaluating the existing programme to designing and improving the programmes.
The CEO urged the education officials that as they take on this important project, they consider the children who operate at various levels within the education system, adding that the existing gaps should be closed in the process to ensure children reach their potential.
"Our children, if they are going to be relevant to our society and if they are going to impact change, they have to have the capacity to do so, and you know what, we are the persons who are expected to impact change in the lives of our children in the school system, and therefore this session, should not be treated lightly," the CEO said. He emphasised that the time has come for real change in the country and it is important that educators be the agents of change.
Heading the consultancy team assisting with the development of the framework, is Dr. Jeffrey Orr, Dean of Education of St. Francis Xavier University. He is assisted by Dr. Joanne Tompkins, Professor of Education, St. Francis Xavier University; Dr. Gregory Mackinnon, Professor of Education, Acadia University; Dr. Gordon Harewood, Senior Assistant Registrar (retd), Caribbean Examinations Council; Beth Charlton, Assistant Professor (retd), Mount St. Vincent University; and Dr. Ingrid Robinson, Assistant Professor of Education, St. Francis Xavier University.
In offering brief remarks, Dr. Harewood, a Guyanese based in Barbados, said 15 to 20 years ago, no one had a clue that Guyana would become an oil-producing country, and as such when the oil and gas Industry was referenced to in text schools and in schools curriculum, countries such as Venezuela and Trinidad were more than often referred to as oil-producing nations.
EXCITING TIMES
Today, though challenging, it is an exciting time for the country, said Dr. Harewood.
"Guyana is going to change significantly and we as educators must move with that change, and as far as possible, ahead of that change and prepare students… who are now in nursery school to live in a Guyana where that change is happening every day," he posited.
Ahead of the opening of the workshop, Dr. Harewood said the team made observations of Guyana's education sector and made several observations.
"We saw examples of good things happening. We saw documented evidence of good things in the system in Guyana. We're not here to tell you we have all the answers… we are here to embrace and to acknowledge, and to incorporate all the good things that are being done," he told the education officials.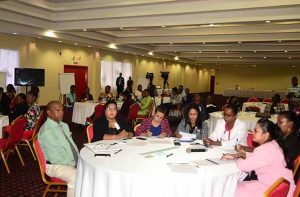 However, Dr. Harewood noted that there is room for improvement.
"Of course, we also saw areas where we felt, okay maybe with a little tweaking and maybe a lot of tweaking, and support, and materials, and facilities, and professional development, things could be better. So we want to share ideas with you, and to hear ideas from you," he added.
According to him, the process of revising the curriculum creates a great opportunity for educators to be a part of the change.
The consultative workshop will conclude on Friday when it is expected that a preliminary curriculum will be developed, and a pedagogical approach established for curriculum enhancement in Guyana.