…health, environment for improved collaboration
GUYANA and Cuba on Wednesday committed to enhancing relations between them through increased collaboration and cooperation in areas of healthcare, environmental conservation, disaster management and tourism.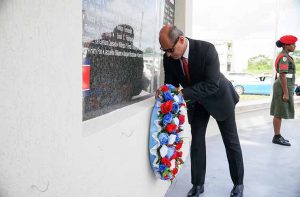 The occasion was a meeting between President David Granger and Cuba's Deputy Minister of Foreign Affairs, Mr. Rogelio Sierra Diaz, who is currently on an official visit to Guyana. During the meeting held at State House, President Granger said since establishing diplomatic ties on December 8, 1972, Guyana and Cuba have enjoyed a strong friendship based on shared trust, respect and mutual understanding. The President also accepted an invitation from the President of Cuba, Mr. Miguel Diaz-Canel, to visit his country at a date to be determined.
"There is a large Cuban brigade here in Guyana and there is substantial interaction through CELAC [Community of Latin American and Caribbean States] and other regional bodies, so we regard this not only as a continuation but a reaffirmation of our historic friendship. We will continue to collaborate. We have always supported Cuba and the removal of the blockade. Since the establishment of diplomatic ties in 1972, we have witnessed the maturity of our relationship," the Guyanese leader said.
In this regard, Minister Diaz said that the two governments are in discussions to see how best the health cooperation, which exists between the two countries, can be improved for mutual benefit. "We are happy to be present in Guyana in medical cooperation. We are in this position of making this arrangement more efficient in the interests of both of our nations and for this reason, both of the governments are in contact to improve this arrangement. We are also in the position of strengthening the collaboration in whatever area you may have needs. I believe it is very important to remain united and work together," the Cuban Deputy Minister said.
On this note, President Granger said that as Guyana forges ahead with the pursuit of a 'green' economy, the country is looking to establish cooperation in the areas of environmental protection and conservation and tourism. He noted that this level of cooperation is of vital importance to advancing Guyana's green agenda and overall economic development.
"We would like to establish cooperation in tourism and environmental conservation. This is one of the areas that we have not been able to collaborate in. We welcome Cuban expertise and investment in Guyana to see our green tourism potential," he said.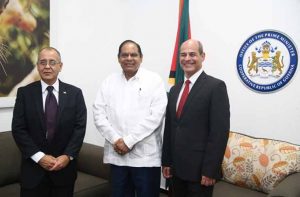 The minister noted that Cuba is ready to lend whatever assistance it can in this area as they have already implemented stringent environmental conservation and protection measures and policies in their country, which could be used as a study for Guyana. "I can see the importance and value of the relations between Cuba and Guyana. We rejoice in the quality of relations between our two countries. These relations are not only historic but also based on trust. Cuba puts much emphasis on protecting the environment. Our policies have been implemented and are applied. Advancement in this area will be beneficial to both countries so we are willing to donate our experience to this matter," Mr. Diaz said.
Following the meeting with President Granger, the Cuban minister called on Prime Minister and First Vice-President, Moses Nagamootoo. The prime minister warmly welcomed the Deputy Foreign Minister and his delegation which included Cuba's Ambassador to Guyana, H.E Narciso Reinaldo Armador Soeorro. During the courtesy call, areas of mutual interest were discussed, including bilateral relations. Deputy Foreign Minister Diaz, on behalf of his country, thanked Prime Minister Nagamootoo for the continued friendship and bilateral relations between the countries.
Prime Minister Nagamootoo called for the strengthening of relations between the two countries through cultural exchanges, the flow of information and an exchange of journalists so that citizens in both countries can better appreciate the culture of the respective countries.
The Cuban minister also paid homage to the victims of the Cubana Air Disaster with the laying of a wreath at the Monument to the Victims of Terrorism at the University of Guyana campus. He also paid a visit to the Centre for the Stimulation of Children, Adolescents and Youth with Special Educational Needs Associated with Disabilities at the Cyril Potter College of Education (CPCE). In 1972, Guyana led efforts by Caribbean states to break the diplomatic isolation of Cuba in this hemisphere; establishing diplomatic relations with that country.