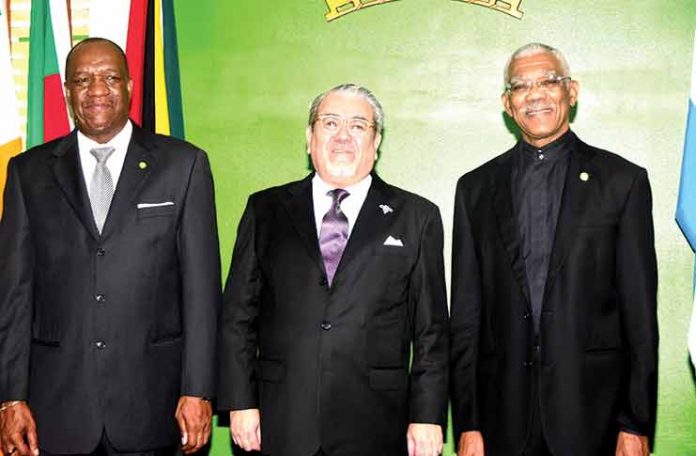 President David Granger on Wednesday accepted Letters of Credence from His Excellency Felipe Alejandro Gardella, accrediting him as Argentina Ambassador to Guyana.
In his welcome to the Argentine Ambassador at State House, President Granger noted that Guyana and Argentina have enjoyed cordial relations since the establishment of diplomatic ties in 1972. "Our relationship is founded on mutual respect for each other's territorial integrity and sovereignty, mutual non-interference in each other's internal affairs, cooperation for mutual benefit, respect for treaties and international law and the maintenance of regional peace and security," said the Head-of-State. President Granger thanked the Argentine government for the support provided to Guyana in the fields of culture, defence, health and sport.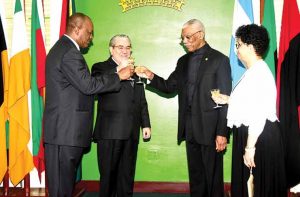 "We look forward to the continued collaboration with the Institute of Research of the Cultural Heritage of the National University of San Martin of Argentina for the restoration of artwork in our National Art Gallery." The Guyanese leader who was accompanied by Minister of State Joseph Harmon and Director General Ministry of Foreign Affairs Audrey Waddle noted Guyana's transition towards becoming a 'green state' and noted that Guyana and Argentina, as parties to the Paris Agreement, are cognizant of the adverse effects of climate change on small-island developing states and low-lying coastal states.
"Guyana, in this regard, welcomes the work of the White Helmets Commission of Argentina which is aimed at strengthening humanitarian assistance in the Caribbean, particularly in instances of natural disasters," he said.
Guyana, like Argentina, the President said is taking steps to reduce its climate vulnerability and to promote greater climate-resilient development. Guyana looks forward to intensifying cooperation with Argentina in this important field. President Granger considers the accreditation of Ambassador Gardella as an excellent opportunity for the two countries to deepen and broaden relations for the mutual benefit of our two Republics.
Similarly, Ambassador Gardella spoke of strengthening bilateral relations while noting that the Argentine Government looks forward to the resumption of negotiations between the governments of Argentina and the United Kingdom to find a peaceful and definitive solution in the dispute over the Falklands Islands (Malvinas Islands). He spoke of cooperation activities in the area of art and disaster reduction as well as humanitarian assistance. That aside, Ambassador Gardella said it is important to Argentina that the commercial ties between the two countries are strengthened. "Argentina could become a major provider of quality food for the Caricom countries," he stated.