– To be held over this Saturday
'NOTHING to Laugh About 11' (NTLA) did not fail to deliver on its promise to present a show like none before! Wearing the hat of both producer and director this time around, Maria Benschop wowed the thousands who gathered over the four-night period last week, at the National Cultural Centre.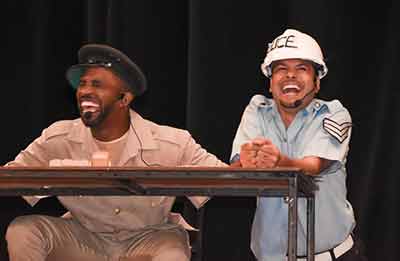 Benschop, who seemingly likes to avoid the limelight by primarily working behind the scenes, went the extra mile to promote her artistes whom she described as "awesome, versatile and sublimely talented."
Due to its tremendous response, the show will be held over this Saturday at the same venue.
"We couldn't resist; four sold-out nights and nothing but excellent reviews! For all those patrons who were too late to get tickets because they were sold out, who rang down our phones and bombarded our inboxes; we heard you loud and clear and this show is for u!" Benschop said.
Co-producer Lyndon 'Jumbie' Jones, Benschop's husband, also worked tirelessly to produce a good show. "My husband, who facilitated the process in every way; your love and tolerance humbles me and I know that there is no obstacle that you and I cannot overcome together," Benschop said in her 'Thank You' remarks on the programme.
The show featured satirical presentations of current events, some even entirely altered to turn very serious incidents into laughable material.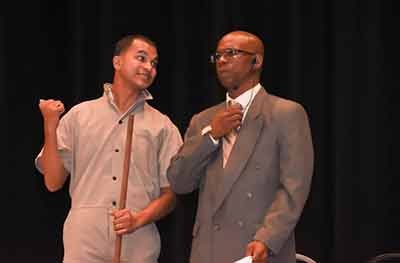 For instance, the play 'Alone and Funny' poked fun at the one-man press conference that was hosted recently by Presidential Candidate Craig Sylvester, who launched the Democratic National Congress Party that he said will be contesting the 2020 National Elections.
'HQC Boss,' (Headquarters Cathedral) is another sequence which featured the events surrounding the popular Otis 'Otisha' Pearson.
A song by Kwasi Edmondson which joked about GWI's Director Richard Van-West Charles' statement that he proudly drinks water from his tap, was also sung by members of the cast.
The song also made fun of Police Commissioner Seelall Persaud, local television personality Gordon Moseley and the prison story which went viral on social media about prisoners who were drinking Hennessy, Ciroc and other alcoholic beverages while behind bars.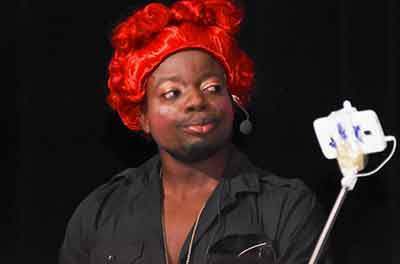 In an interview with the Buzz, one of the well-loved and highly anticipated characters, Michael 'Credit' Ignatius, said this year's show features original material and skits with an energy level that could not previously be surpassed.
He described it as the biggest comedy show in Guyana at the moment which holds a certain reputation, and to upkeep such a standing he said the participants worked hard to do their best and put on a great show.
One of the reasons people pay their money to see the show, Ignatius observed, is to be entertained. "That's why I will be putting in 200 per cent; to ensure people get their money's worth and enjoy a great show."
This year's show featured more 'Credit and Radhika' (Leza Singh) scenes, which have been well received over the years.
Another participant, Mark Luke Edwards told the Buzz that played the role of a number of different characters and while it was all fun, at the same time it was a lot of work.
The highly anticipated show features other local stars such as Kirwyn Mars, Clemencio Goddette, Brian Goodman, Chris Gopaul, Simone Persaud, Mark "Chinee Man" Kazim, Zoya Moore, Ashley Alfred, Kijana Lewis, Ann-Marie Singh, and Jermaine Grimmond.
Tomorrow, the show will start at 20:00hrs and tickets which are $1,000, $1,500 and $2,000 can be purchased at the National Cultural Centre, Gizmos and Gadgets, Elegance Jewellery and Pawn Shop, Payless Variety Store (V/hoop & G/Town), KFC (Regent St), Sir Mars, Survival Supermarket, Igloo outlet (Providence) and the Giftland Mall.
"The creative process, from the germination of an idea for a script to seeing it brought to life by our thespians, always make it worth the while," Benschop said, adding, "A full house to me not only indicates that our marketing game was on point, but also tells me that we got it right in our previous years. We connected, we made our fan laugh and they came back for more, and that is the ultimate satisfaction for us. To our patrons, Thank You, you are everything."