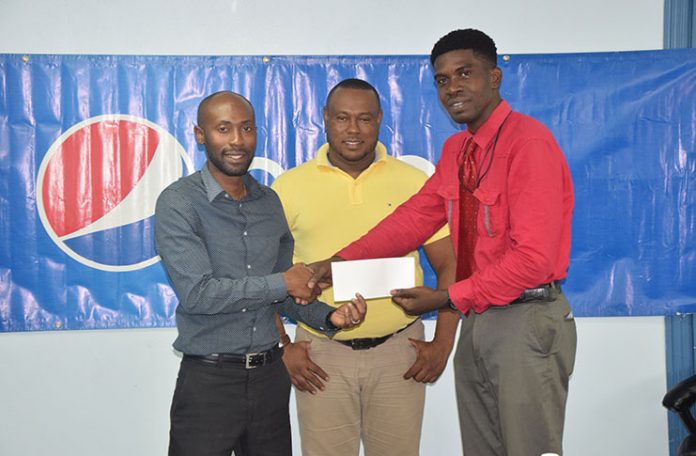 DEMERARA Distillers Limited (DDL) yesterday joined forces with the Petra Organisation in their ExxonMobil U-14 girls and boys football tournament set to begin this weekend.
At a press briefing yesterday, Pepsi Brand Manager Larry Wills stated that the company has had its eye for a long time on youth football.
According to Wills, when the company was approached by the Petra organisation, they quickly jumped on board.
"What is most interesting is that this tournament encompasses the female aspect of football in Guyana and this is something we have always been interested in," Wills said.
He added, "Giving back to youths is important to us. We know that the development of football in Guyana is really based on the development of youths in Guyana."
Petra co-director Troy Mendonca contended that the female aspect of the tournament will benefit from coaching expertise through the GFF for the first two weeks while the males will get right into action.
"What is going to happen is while the Boys tournament starts this weekend, Saturday, they gonna have a one-hour programme with all the (female) teams and their representatives, going through drills from the GFF technical committee," he added.
He continued, "Their competition will start in the third week because obviously it's fewer teams and they are going to go for four weeks and the Boys seven weeks."
Tomorrow's opening round of matches will pit Tutorial High against Buxton Youth Development, Marian Academy against Uitvlugt, Dolphin Secondary against Ann's Grove, Bishops' High versus Annandale, Carmel versus Vergenoegen and New Campbellville against Brickdam Secondary.
In the second half of the day, Tucville will play Queenstown Secondary, Chase will play St John's, North Ruimveldt Multi  take on School of the Nations, East Ruimveldt  face St George's and Kingston tackle South Ruimveldt
Play will begin after the march past at 10:00hrs at the Ministry of Education Ground.