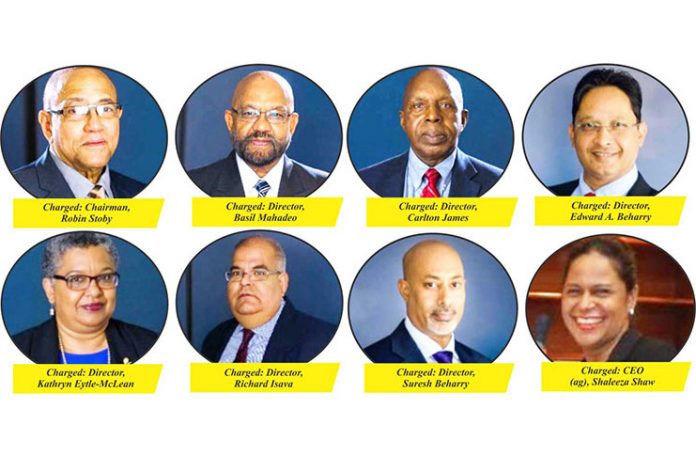 THE trial of eight directors of the Guyana Bank for Trade and Industry (GBTI), accused of failing to comply with a production order issued by acting Chief Justice Roxane George-Wiltshire, was adjourned until May 23 for the Special Organised Crime Unit (SOCU) prosecutor to reply to preliminary submissions made by the defence.
Those on trial are GBTI directors, Edward A Beharry, Suresh Beharry, Kathryn Eytle-McLean, Richard Isava, Carlton James and Basil Mahadeo; its chairman Robin Stoby and acting Chief Executive Officer (CEO) Shaleeza Shaw.
The accused being placed before the courts resulted from an ongoing Special Organised Crime Unit (SOCU) investigation into the US$500M fraud at the Guyana Rice Development Board (GRDB).
The trial is being presided over by Chief Magistrate Ann McLennan, with evidence being led by SOCU prosecutor, Patrice Henry.
The GBTI directors are being represented by Ian Chang, S.C., Roger Yearwood, Nigel Hughes, Steven Fraser and Edward Luckhoo.
The final witness–forensic financial analysts Sherronie James–who is attached to SOCU, testified on Wednesday; however, the defence attorneys made written submission to the court objecting to the woman testifying in the matter.
The attorneys contended that the witness' evidence had nothing to do with the particulars of the charge. However, the matter was adjourned until May 23 for the prosecution to reply.
In a previous hearing, Court Marshal Nelisha Peterkin; Superintendent of Police, Robert Tyndall; Sydney James, Head of SOCU; and Superintendent Brian Vieira testified.
The eight directors are jointly charged with failing to comply with a production order issued by the acting Chief Justice and served by a marshal of the high court, ordering them to produce certain named documents, within seven days to SOCU head, Assistant Commissioner of Police, Sydney James.
It is alleged that they contravened the order without reasonable cause.
SOCU, as part of its probe into the fraud case, had moved to the court to obtain an order instructing GBTI to produce all the required documents to aid in the investigation.
Under tough anti-money laundering laws, once court orders are granted, financial institutions are reportedly bound to provide information. In this case, the monies are not from private accounts, but rather from the U.S. dollar and other accounts of GRDB–a state entity.