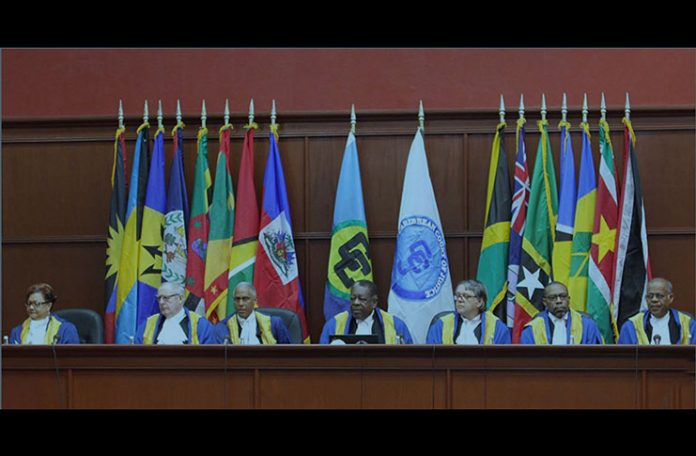 OUTGOING President of the Caribbean Court of Justice, Sir Dennis Byron, has urged youths of the region not to settle for second best, asserting that the only limitations that, as a region, we have are those imposed by our own imaginations.
"Rid ourselves of mental slavery, rise up, stand up for our rights, imagine that the world would be a better place when we occupy our rightful and equal space," Sir Dennis told a special sitting of the CCJ held in Antigua and Barbuda to pay tribute to him as he departs the court.
In a speech that was heavy on reflections, Sir Dennis hailed his stint at the CCJ as a wonderful experience. "Even with all my experiences of judiciaries around the world, sitting side by side with judges from every continent on the bench of an International Court, I am extremely proud to have been part of this outstanding court with judges of the highest calibre, work ethic and integrity.
The culmination of a lifelong dream to be part of a final Caribbean court has only been eclipsed by the sheer enjoyment of working in an environment of such high intellect and quality."
He showered praise on the first President of the court, Michael De Labastide and Guyanese jurist Duke Pollard, who demitted office before he joined the court.
"The quality of their work lives on and is part of the foundation on which we have been building." Sir Dennis also mentioned that there are the two retired judges with whom he had the greatest pleasure in working along – the first female judge of the court, the distinguished Guyanese Desiree Bernard the former Chancellor of Guyana and the recently retired Justice Rolston Nelson.
"I am a witness to contributions the court and its judges have made to the development of a Caribbean Jurisprudence and to facilitating regional integration. It has been an honour to serve amongst some of our region's finest men and women, all of whom take immense pride and diligence in discharging their duties.
"And I leave optimistic about the future journey of the CCJ under the able leadership of my brother, Justice Adrian Saunders, who has already distinguished himself over the last two and half decades with his scholarship, energy and leadership qualities."
Byron said a court is like a chain, as strong as its weakest link and to this end he praised his staff "from our excellent and high performing court registry, IT and public education departments. But I also see parts of my personal support teams including my learned judicial assistant, my efficient and effective personal and executive assistants and even my close protector and driver.
"A key element of our support system, who are not represented today, are the security officers of the court. I salute them. In addition to the performance of their work, I cannot resist sliding in the remark that they are the best-dressed division of our court and my daily personal interaction with them has been warm, comforting and encouraging."
The CCJ President singled out Bevil Wooding, whom he described as a "tremendous visionary and resource in the development of Caribbean technology solutions for improved performance in the administration of justice and a key element in the realisation of one of my dreams through the establishment of APEX the CCJ agency for court improvement."
Sir Dennis said Wooding has assisted in positioning the Caribbean Court of Justice as a world leader in court technology. "I believe that you all have had an opportunity to witness this over the last weekend when an important case relating to the impending elections in Barbados was filed in our court around 17.00hrs on Friday afternoon, and the case was heard on Sunday at 11:00hrs with the bench in Trinidad and the litigants in Barbados. We were able to conclude the hearing and make dispositive rulings. I doubt that there are many courts where the attempt at filing at that time would not have had to wait until the court opened on Monday."
He also thanked the Caribbean people, noting that over the years his engagement in discussions with ordinary folk have made him realise that the holders of the higher echelons of power, authority and education are not the sole repositories of wisdom in our communities.
"These people have helped to keep my feet on the ground and sustain my belief that this region is more advanced and deserves higher credit that we are willing to give ourselves. I think that I have been buoyed up by friendships that have guided, protected and assisted me along the way."
President-Designate Saunders lauded the retiring President saying that the region benefited from, "Sir Dennis' boundless enthusiasm and indefatigable zeal, his visioning and careful planning, his bold leadership, his rapid absorption of new ideas and international best practices, and the adoption by him of creative and effective methods of overcoming formidable obstacles".
Sir Dennis, who is 74 years old and who will be 75 in July, has been president of the CCJ since 2011. Justice Adrian Saunders of the CCJ is taking over from Sir Dennis as President of the court. His legal and judicial career includes numerous postings in and outside the region. Before 2011 Sir Dennis was President of the International Criminal Tribunal for Rwanda.
In 1999, Judge Byron was appointed Chief Justice of the Eastern Caribbean Supreme Court, having acted in that position for two years. Sir Dennis Byron has been also President of the Commonwealth Judicial Education Institute in Halifax, Canada since 2000.
That same year, 2000, Sir Dennis was knighted by Queen Elizabeth and he was later, in 2004 appointed a member of Her Majesty's Privy Council.