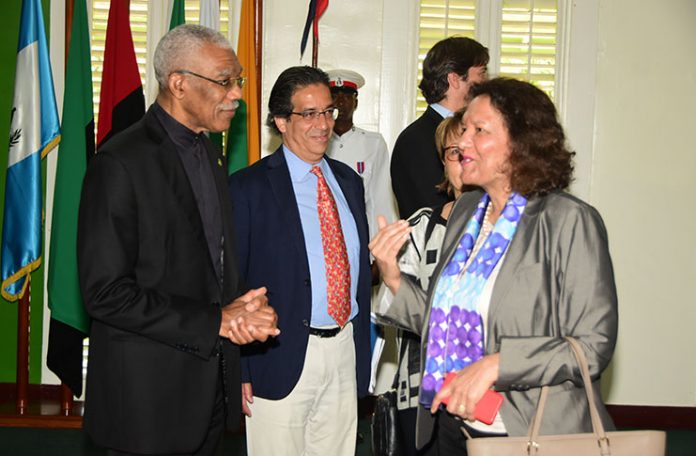 REPRESENTATIVES of the World Bank were impressed by Guyana's vision and agenda for a green economy and have invited President David Granger to present the country's aspirations to the bank at its Headquarter in Washington DC, USA.
"There is a lot that the bank can learn from what Guyana is aspiring to do, especially since they have a green agenda and an extractive sector, so it is interesting to know how they will be balancing both," said World Bank Director for the Caribbean and Latin America, Tahseen Sayed Khan, in an invited comment after a meeting with President Granger at State House on Wednesday.
Khan believes that both the bank and Guyana can benefit from knowledge-sharing once the President makes his presentation on the country's aspirations.
The director was impressed by the government's plan to take full advantage of its resources, and to also protect the environment in the process.
She said they also discussed ways that the bank could provide technical and financial support to Guyana in relation to the "green growth development".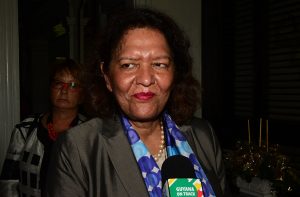 "Green State Development Strategy will be based on sustainable use of biodiversity and a decarbonised approach that endeavours to provide an inclusive and better quality of life for all Guyanese within the ecological limits of our country's natural resources, and with the relevant physical and human capital," said President Granger in the framework of the Guyana Green State Development Strategy and Financing Mechanisms.
According to the framework, The Green State Development Strategy (GSDS) will guide Guyana's economic and socio-cultural development over the next 15 years.
"It will lay His Excellency President David A. Granger and the new coalition Government's principle foundations for inclusive green economic and social growth, provide a roadmap for achieving sustainable development goals and related targets and outline a long-term vision for a prosperous and equitable future," the framework read.
The objective of the strategy is to reorient and diversify Guyana's economy, reducing reliance on traditional sectors and opening new sustainable income and investment opportunities in higher value-added and higher growth sectors.
The GSDS will also provide a platform from which Guyana can start the transition to a diversified green and inclusive economy and embrace sustainable development, become a leading example of a "Green State", and serve as an inspiration to other countries in the region and worldwide.