HUNDREDS from the education sector, as well as mourners and sympathisers whose lives she had touched in diverse ways, on Wednesday bade a fond farewell as they paid their last respects to a fallen Guyanese educational icon.
Renowned academician, Olive Adriana Lyken and pioneer in the founding of the Robert Lyken Memorial Home died at her East Street, Georgetown residence on Thursday May 3, 2018, following a brief period of illness.
Her body was interred at Le Repentir Cemetery after a moving Thanksgiving Service at the Trinity Methodist Church. On High Street. She was 94.
Lyken, with years of exceptional experience in the teaching profession, was the first woman to have held the prestigious position of Education Officer in Guyana, as well as the first Principal of the Cyril Potter College of Education, making an indelible impact on the education sector in Guyana.
It was in 1956 that she was assigned to the Essequibo Coast as an education officer with responsibility for staff development in the Nursery and Infant Division.
The year 1974 was another breakthrough year for Lyken; for it was in that year that she was appointed principal of the Cyril Potter College of Education, functioning in that capacity for five years then retiring in 1979.
Born in Georgetown on March 15, 1924, to Joseph Eleazor Lyken and Emily Mathilda Lyken, Olive was the youngest of four siblings.
TRAILBLAZER
There were many glowing tributes in her honour, and according to Audrey Goring who read the eulogy, Lyken's passion was education. Goring recalled that at the tender age of 16, she entered the teaching profession, serving as a primary school teacher from 1940 to 1956. By 1947, she had already obtained her Trained Teacher's Certificate from the-then Government Training College.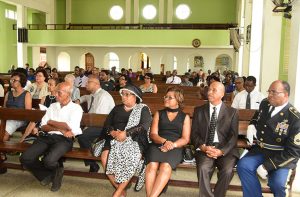 In 1967, she took up the position of lecturer in Geography and Infant Education at the Cyril Potter College of Education, and a year later, was appointed deputy principal of the college.
In 1979, she retired from the education sector and joined the Guyana Pharmaceutical Corporation (GPC) as group training officer, a position she retained for the next 13 years until 1992. She also developed and ran an Apprentice Scheme at GPC, doing it with a passion, since it was part of her career that she loved best.
She subsequently proceeded to the United Kingdom to continue her studies. Applying herself diligently as always, she graduated with a Degree with Honours in Geography from Birbeck College at the University of London. Lyken lived in the UK for eight years during which she worked as a remedial teacher – special education, with the Greater London Education Authority before returning to Guyana.
FAMILY BUSINESS
Over the years, she was also very much involved in the family business, The Robert Lyken Funeral Parlour, founded by her father in 1922 after World War I and through the years, managed by his sons Robert, Arthur, Joseph (Big Joe) and nephew (Little Joe).
Subsequent to their passing, she took over the management of the business, by which time Olive had retired from GPC. However, in recent times she'd passed the mantle of leadership of the family legacy on to her nephew, Gordon Lyken.
Aunt Olive, as she was familiarly called by family members, was described as a remarkable woman. According to her nieces and nephews, "She was the epitome of traditional values, an affectionate person, yet a strict disciplinarian and demanded strict moral values from her students, siblings and many nieces and nephews." She was a stickler for discipline.
In other tributes by relatives, members of the teaching profession and educational sector generally, Aunt Olive was eulogised as a sincere, dedicated woman with a strong personality and one who expressed her views without fear; one who helped to positively shape the character of those within her realm. She taught strong values and the importance of working together as a team.
Even though she had no biological children, Lyken was described as a 'mother' to many (whose lives she touched) in diverse ways: as a friend, colleague, teacher, educator.
Among those paying tributes from the congregation bidding a fond farewell and paying their last respects were members drawn from the 300-strong '41st Batch of the College of Education' (1974 to 1976), which was led by Olive Adriana Lyken.
Others included Director of Public Prosecutions, Wilfred Lee, former chairman of the Guyana Pharmaceutical Corporation Shalimar Hack, Noelle Richardson and Albert Bentick.