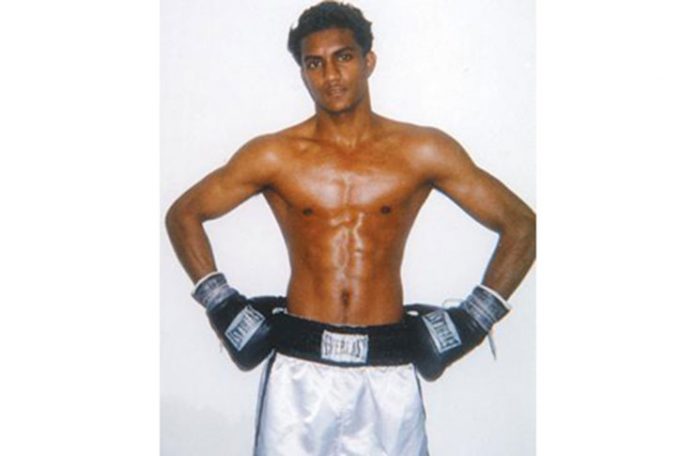 … seeking world title shot before year-end
GUYANA'S bantamweight professional boxer Elton Felix `Coolie Bully' Dharry will take on Oscar Mojica in a ten-round bantamweight contest tomorrow in Queen's New York as he sets his eyes on a world title fight.
According to reports emanating from New York, USA, the Guyanese promotional team, Havoc Boxing, are staying true to their word of making 2018 a busy year for the bantamweight champion, following a bruising unanimous decision win against Venezuelan Jesus Vargas on January 20 this year, at the Cliff Anderson Sports Hall (CASH) here in Guyana.
The May 18 card in Queen's, New York is dubbed `Making of a Champion'.
The Guyanese (Dharry) who is also the International Boxing Federation's Inter-Continental bantamweight title-holder and the World Boxing Council's Caribbean Boxing Federation (CABOFE) bantamweight champion will be using tomorrow night's fight as a stepping stone for securing a world title shot.
Dharry, born on December 26, 1985 at Enterprise, East Coast Demerara, made his professional debut 19 years later and secured a unanimous points-decision win in a four-round contest against Mark Fernandes at the Cliff Anderson Sports Hall (CASH).
He then migrated to the United States of America (US) and on December 8, 2006, knocked out Stanley Childers in round one at the Florentine Gardens, El Monte and on July 6, 2007, Dharry was held to a draw by Manuel Surabia in a four-round contest at the Orleans Hotel and Casino in Las Vegas.
The Guyanese then suffered four consecutive losses. The first was against Jose Alboquerque in a six-rounder on August 24, 2007. Then on November 2, the same year, he lost to Cesar Grajeda in another six-rounder.
Twenty-three days later, Dharry took on Leo Santa Cruz in a four-round contest and lost by a unanimous points-decision and this was followed by another similar decision when he fought Sergio Herrera in a four-round contest on May 29, 2008 at the Swiss Park, Chula Vista.
Five months later, another Guyanese fighter, Wilmut Hutson, made his debut and agreed to fight `The Coolie Bully' in a four-rounder but was stopped in the third round. This fight was contested at the CASH.
From then, Dharry has been on a winning streak, winning 19 consecutive fights which included five knockouts, six technical knockouts, six unanimous points-decisions, two split decisions and two that saw his opponents retire within the distance.
In the process of winning the 19 consecutive fights, Dharry won the CABOFE bantamweight title through a seventh-round victory against his Guyanese counterpart Dexter Marks on May 28, 2011 at the CASH.
On April 20, 2013, Dharry had the referee stop his contest against another Guyanese fighter, Orlando Rogers, in the fourth of the 12-round title fight at the Princess Hotel, Providence, East Bank Demerara then on December 6, 2014, he secured a unanimous decision win against Jose Rios to win the International Boxing Federation's Inter-Continental bantamweight title.
Dharry's latest victory was recorded on January 20, 2018 when he secured a unanimous points-decision victory against Jesus Vargas.
So come tomorrow night, Mojica will have his work cut out.
Stats on Mojicas's career will be published in tomorrow's edition of Chronicle Sport.