Hundreds of persons converged last Saturday evening at the Anna Regina Mandir compound to witness the spectacular performances put forward by the Dharmic Swarswattie Dance Academy in observance of the 180th Anniversary of the Arrival of Indians to Guyana.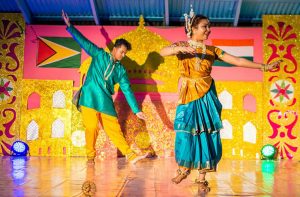 The show, which was branded under the name 'Vandee Mataram', featured traditional dances put together by the dance academy. The programme commenced with prayers from the three major religions after which dancers took the stage.
Attired in their richly decorated traditional wear they mesmerised the audience with their talented moves. All the dances were choreographed by Essequibo dance teacher Sursattie Singh aka Annie.
The Indian National Anthem was recited by children from Affiance Village after which the dancers took the stage performing "Ghoomar" and then Essequibo Chutney Queen Sandra Beni performed a song. Classical dances were performed by the dance teacher herself along with Vivick, one of her male dancers. Other dances performed included, "Naino Walay", "Sun Saathiya", "Soja Zara" and "Dolak Baja".
Individual dances were performed by Essequibo talented dancer, Dayvashanie Naipaul who skillfully danced to classical tunes. 'Filmy' songs were also done by members of the Merritone band Mohini and Ravin Nateram.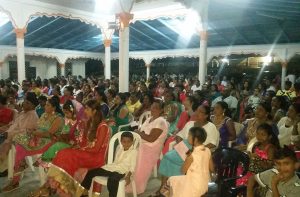 The show was held with the aim of raising funds for the completion of the Anna Regina Kendra which will be a hub for religious teachings and training sessions in the region. The Kendra will provide teachings in Hindi, cooking and also dances to the Essequibo population when completed.