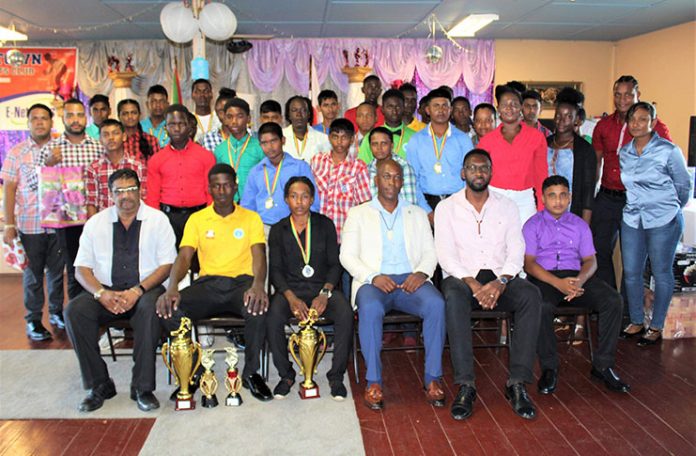 By: Colin Bynoe
– Kevin Sinclair cops Cricketer-of-the-Year Award
THE Rose Hall Town Youth & Sports Club, (RHTYSC) MS can be considered a household name in Berbice and by extension Guyana. This time around the club "pulled out all the stops" on Sunday when they hosted their 28th Annual Awards Ceremony at the St Francis Community Training Centre.
With a packed audience, including CEO of Guyana Water Incorporated (GWI) Dr Richard Van-West Charles; Executive Officer at President Youth Award Republic of Guyana, Medal Of Service (PYARG, MS) Allister Collins; Regional Chairman David Armagon; Commander of 'B' Division Linden Alves; Director of Sport Christopher Jones; Chief Executive Officer of Nand Persaud Incorporated, Mohindra Persaud; donors, club members and other special invited guests.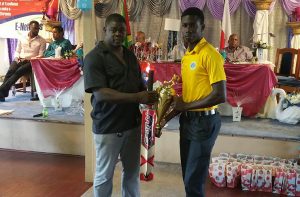 Making the first remark was Secretary/CEO Hilbert Foster who made mention of the Club's unmatched list of achievements and activities. Since its formation in September, 1990, by the St Francis Xavier Roman Catholic Youth Club, the RHTYSC MS has exceeded expectations.
Foster expressed, "Last year 2017 was another successful year for us. We successfully completed a record of 712 activities under a range of sub-headings which included Education, Charity, Sports, Community Development, Youth Development, Religion, Anti-Suicide, Jobs for Youths, Health and Anti-Crime among others".
Executive Officer of PYARG, Allister Collins, gave the feature presentation and drew attention to the expression of love, and honour that the RHTYSC MS displayed at its 28th Awards Ceremony.
The PYARG executive officer expressed his astonishment when he arrived with his staff to behold the many gifts. Allister Collins said, "It takes a special heart, a special mind to have that spirit of honour, the spirit of giving." At that time the guest speaker was referring to the CEO/Secretary of RHTYSC, MS Hilbert Foster.
Mr Collins articulated many biblical references. He mentioned the first line of Matthew 7:16 "Ye shall know them by their fruits." Collins continued to shower praises on RHTYSC MS for a job well done when he said, "The act of honouring someone for his or her outstanding work or contribution is an act of love," specifically laying his focus on the club's initiative in honouring teachers and policemen.
Collins then added, "There is something that is magical when you can show honour, because many times a father, the unsound hero in a home is never honoured," Mr Collins concluded his speech with the use of a Zulu word 'Obuntu' which simply means humanity, "I am because you are; what empowers me empowers you; what diminishes me diminishes you."
The work of RHTYSC MS, for the period January 2017 to April, 2018 reads: Producing 23 players for Guyana at the junior and senior levels, three Under-15s, two Under-17s, two Under-19, also eight Under-19 female, five National Senior Females while the club had three National Senior cricketers for the period.
Secondly, the club hosted a number of cricket tournaments during the year including the GBTI Inter-secondary, Busta Champion of Champions, Patron Green Economy Cup and Nasir Memorial Cup.
Additionally, two new cricket teams were established, King Solomon Logistics Under-12 and Poonai Pharmacy Under-13.
In July of 2017 the club held a highly successful cricket academy. With sponsorship from Demerara Mutual the RHTYSC organised a six-month practice programme for its members. Moreover, 20 of the club members received assistance with gear. Besides all of this, the club co-sponsored 37 sports tournaments in Berbice in relation to football, basketball and cycling.
School bags, school uniforms and footwear worth $1.5M were distributed during the period, in addition to another sum of $1M worth of exercise books. The club also presented 25 bicycles to less fortunate students.
Furthermore the club hosted a monthly programme to provide snacks for pensioners. 17 Guyanese were honoured with the club's highest award, 'The Dolphin Award of Excellence', and over 50 cricket clubs and 23 NGOs received millions of dollars in sports gear.
A Career Fair was organised with over 50 booths which attracted thousands of students. In addition to this, four medical outreaches were organised and catered to the needs of a number of residents in the area.
The work of the club continued with a successful hosting of the Annual Berbice Christmas Village. Also during that period the club donated over $3M in toys and food hampers to less fortunate families. The club held an Evening of Music with the Guyana Defence Force and many other activities such as Mother and Father of the Year, Dare to Dream, Make a Wish, Role Model-of-the-Year and Say Yes to Religion.
Weighing in on the club's major 2018 plans, Foster shared their desire to obtain funds for an all-weather outdoor practice facility. He then made mention of completing the restoration of the Area 'H' Ground. Finally the RHTYSC will seek help in assisting their promising cricketers with much-needed cricket gear.
Highlighting the major part of the Awards Presentation was Berbice Under-19 captain Kevin Sinclair. He was awarded the Pepsi Under-19 Batsman-of-the-Year and Cricketer-of-the-Year.
Similarly young Sinclair received the Bakewell second division batsman and Cricketer-of-the-Year prize.
Kevin Sinclair's' smiles got even wider when he was named the 2018 RHTYSC Cricketer-of-the-Year, while Berbice Under-19 middle-order batsman Kevlon Anderson was adjudged runner-up Cricketer-of-the-Year.
The work of RHTYSC, MS would not have been possible without the support from its numerous donors. Mr Hilbert Foster specially thanked the Patron of the Club, His Excellency President David Granger for his support over the last year, also to the Regional Chairman David Armogan, Vice- Chairman Dennis Deroop, Regional Executive Officer (REO) Kim Williams Stephen and Mayor Vijai Ramoo.
The other club awardees are as follows: Kevin Basdeo, who received the King Solomon Logistics Under-12 Male Cricketer-of-the-Year; King Solomon Logistics Under-12 female Cricketer Daniela Hicks.
Poonai Pharmacy Under-13 Batsman-of-the-Year Angelino Ramdihal; Poonai Pharmacy Under-13 Bowler-of-the-Year Christopher Deeroop; Poonai Pharmacy Under-13 Cricketer-of-the-Year Matthew Pattaya
Farfan and Mendes Ltd Under-15 Bowler-of-the-Year Jeremy Sandia; Farfan and Mendes Ltd Under-15 Batsman-of-the-Year Mohendra Gopilaaa; Farfan and Mendes Ltd Under-15 Cricketer-of-the-Year Jonathan Rampersaud
Bakewell Uunder-17 Bowler-of-the-Year Junior Sinclair; Bakewell Under-17 Batsman-of-the-Year Kevlon Anderson; Bakewell Under-17 Cricketer-of-the-Year Kevlon Anderson
Pepsi Under-19 Bowler-of-the-Year Keith Simpson; Pepsi Under-19 Batsman-of-the-Year Kevin Sinclair; Pepsi Under-19 Cricketer-of-the-Year Kevin Sinclair
Metro Female Bowler-of-the-Year Erva Giddings; Metro Female Batter-of-the-Year Shabika Gajnabi; Metro Female Cricketer-of-the-Year Shemaine Campbelle
Bakewell Second Division Bowler-of-the-Year Sylus Tyndall; Bakewell Second Division Batsman-of-the-Year Kevin Sinclair; Bakewell Second Division Batsman-of-the-Year Kevin Sinclair
Gizmos and Gadgets First Division Bowler-of-the-Year Eon Hooper; Gizmos and Gadgets First Division Batsman-of-the-Year Clinton Pestano; Gizmos and Gadgets First Division Cricketer-of-the-Year Clinton Pestano
Most Disciplined Male cricketers: Chanderpaul Govindan and Shivnarine Ramnarine; Most Disciplined Female cricketer: Mariam Somaroo;
Most Promising Male cricketer: Jonathan De Viera; Most Promising Female Kassie Munroe
Most Improved Male cricketer Nicholas Lawson; Most improved Female cricketer Kimmone Thomas
Most Committed Male cricketer Vikash Subramanie; Most Committed Female cricketer Uma Mattadin
Fielder-of-the-Year Keith Simpson
Benefit Cricketer-of-the-Year Shawn Pereira
Cooperation with Management award Navin Raghoo and Sunil Madrimootoo
Cooperation Joel Pike and Simon Naidu