MANY of the best badminton players in Central America and the Caribbean enjoyed a training camp, organised by Panam Sports and the Badminton Pan-American Confederation (BPAC), in Guatemala, in preparation for continental tournaments, Pan Am Individual Championships and Central American and Caribbean (CAC) Games in Barranquilla 2018.
More than 20 athletes from Mexico, El Salvador, Costa Rica, Cuba, Barbados, Guyana, Dominican Republic, Colombia, Venezuela and hosts Guatemala for about a month, shared an arduous training camp run by an experienced coach from March 20 to April 22.
Guyana's top male and female badminton players, Jonathan Mangra and Priyanna Ramdhani, successfully completed the camp.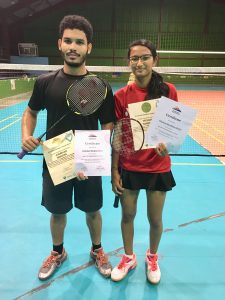 Days before the camp, the Panam Sports General Secretary, Ivar Sisniega, stressed that "we seek the benefit of athletes, especially those who come from small countries and who often have difficulties to improve." We believe that this camp will help the athletes to improve their level to compete in the next Central American and Caribbean Games or the South American Games, and thanks to their effort they can achieve a classification and have a good performance in the Pan American Games, Lima 2019. "
The badminton camp was opened by José Del Busto, BPAC Chair of Development, German Valdez, BPAC Development Director, and Donald Paiz, representative of the Guatemala Badminton Federation, highlighting the preparation of athletes for Barranquilla 2018.