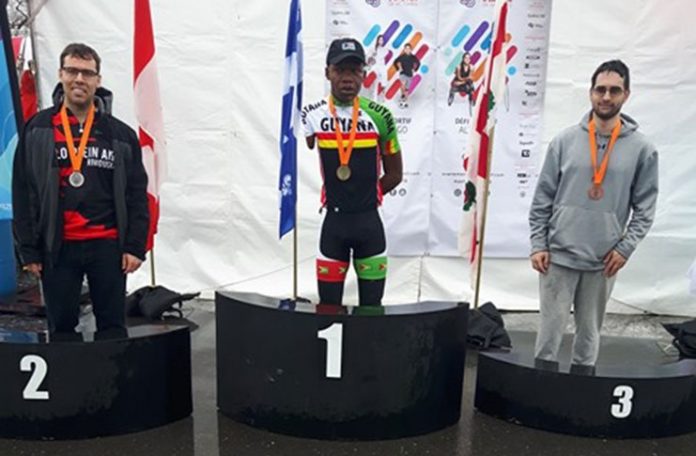 —But placed fourth in time-trial
—-Director of Sport elated
GUYANA's para cyclist, Walter Grant-Stuart won the Union de Cycling C1 Para cycle road race yesterday in Villengeneue, Montreal, Canada. However, on the previous day he placed fourth in the time-trial.
According to reports out of Canada, Grant-Stuart rode outstandingly well to win the road race which involved cyclists from over 15 countries. He also won the time-trial but unfortunately, after being the quickest to complete the 17.6 Km event on Saturday, he was relegated to fourth place as the organisers stated that Grant-Stuart has a 100 percent stability and functions.
His time for the time-trial was 26 minutes 29.86 seconds, while his time for t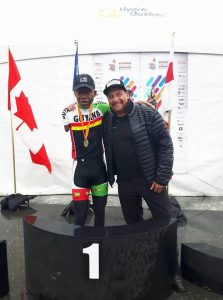 he road race is still to be announced.
Asked for his thoughts on Grant-Stuart's performance, Director of Sport, Christopher Jones said he is very elated with the cyclist's achievements and how the disabled athlete has put Guyana on the world stage.
According to Jones, the National Sports Commission (NSC) played a vital role in getting Grant-Stuart to be a part of the UCI championships since the international organisation did not recognise Guyana as a member of the UCI family. "So after witnessing Grant-Stuart's performance over the past three years, we at the NSC realised that the cyclist has potential and when we were approached for assistance, we readily supported him, as I personally thought that he will do well. So I am not surprised that he won gold…. I saw it coming all the time".
According to Jones, the NSC not only assisted Grant-Stuart financially, but the Commission had to write the UCI and other international agencies for Guyana to get recognition" Jones explained.
Jones informed that Grant-Stuart has now paved the way for other disabled sportsmen and women to get assistance. According to the Director, already, the NSC is playing a very important part in assisting athletes with disabilities.
Meanwhile, Canada's Michael Sometz (MC3), Keely Shaw (WC 4) and Maria Claude-Molnar (WC4) occupied the top three places respectively in the 17.6Km time-trial on Saturday.
After the time-trial, Grant-Stuart said he was pleased with his performance and had pledged to do better in the road race; and he did.