By Tracey Khan
DEEJAY 'GullyRas' continues to evolve from music to a businessman who will not be stopped.
Born Ceon LaRose, he started his career carrying music boxes for his uncle and a friend who owned Solid Gold and Untouchable sound system. He worked his way to the top and is now considered one of the biggest deejays in Guyana, touring the world and sharing his talent with fans and supporters. He has even done some backup singing for dancehall superstar Mavado and a few others.
He is thankful to influential forces such as Fusion International which has shown much confidence in his work and allowed him to spread his wings and realise his potential. He has not forgotten the show of support and guidance which was shown to him and he is paving the way for other young deejays including his protégé 'Diamond'.
ROLE MODEL
But what he is most proud of is being a good father and role model to the youngsters who look up to him. He has been to several high schools to encourage and motivate young people to stay on the right path and make a positive mark. This passion of motivating children through his school tours will continue as he seeks to do his part in society.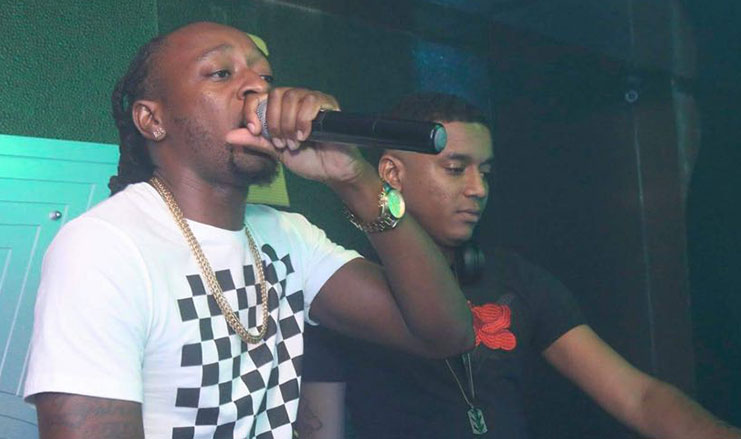 "That's why I don't enter these sound clashes and certain events. My kids look up to me so how do you think they will feel looking at their father on stage busing another next DJ? I'm not dissing anyone but I just want to be different whereby these big companies would reach out to me to endorse their products and services," the Deejay said.
EARLY HUSTLE
Coming from a single-parent family, at a tender age, Ceon would walk the city streets selling cheese and cigarettes to help his mother who was raising four children. It was during these hard times that his love for business grew.
"It was my main agenda growing up, I always wanted to be a businessman but I didn't have the finances so I had to toe the line, remember you have to creep before you walk," he laughed and explained.
He is seen as a fashion icon with his trendy style and swag. He recently opened his first boutique LaRose Fashion located at 333 Cummings Street, Georgetown which provides the latest in men and women clothing at an affordable price.
"I love fashion and that is evident in the way I dress. People are always asking about what I'm wearing so it came naturally and I wanted to provide some of it for the people who admire my fashion sense and give them a sense of direction," he said.
He also has a car rental business that he started three years ago with his personal car. The business has grown and is located at Ruimzeight Gardens, West Coast Demerara.
HARD WORK PAYS OFF
Ceon has invested in himself a lot of hard work and dedication which is paying off. "A lot of people who don't know your background or where you're coming from and don't know the things you've been through want to assume, because you come from nothing to something like you can't afford to get certain things on your own. Hard work is the key to success so once you work hard you can get anything in the world you want, everything in life just takes time," he stressed.
He said that his transition from just music to business was a challenge but preparedness and focus are the key and he is encouraging youths to be interested in being their own business to be persistent.
"Any business you go into, you always have to prepare for rainy days, so if you invest $2 million in your business you can't make that back in the space of a month or tw, so you have to prepare to go into your pocket to pay your staff and doing certain things until your business reaches that level so it's a challenge but you can't give up on it," he said.
He is now working on his own clothing line "LaRose" which should be out soon. "That will be the biggest dream come through once it's rolled out, Gully Ras is already established so I want to get LaRose there because that's my title."
Ceon said he feels fulfilled with his current state of living but will keep reaching for the stars.