AN investigation continues into Saturday's suspected arson attack on the popular White Castle fish shop located on John and Hadfield Streets, Werk-en-Rust, Georgetown, where the business owner faces some $18M in losses.
This newspaper understands that at least one person is in police custody assisting with the investigation.
According to Chief Fire Officer Marlon Gentle, on Saturday around 02:30hrs, four units from the areas of Central Georgetown, West Ruimveldt and Alberttown responded to the fire which had already consumed the ground floor.
The fish shop operates at the bottom flat of the four-storey building, but further damage was averted upon the arrival of the fire service, which prevented the flames from spreading outwards and upwards.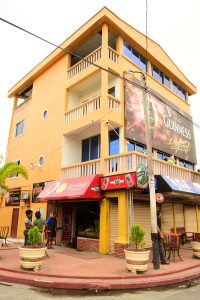 Speaking with the Guyana Chronicle, proprietor Jermaine Langevine said that this is not the first time a fire was started at the building, noting that a similar occurrence took place in 2017.
Langevine received word around 04:00hrs about the fire from his workers and thanked the police and the fire service for their timely response.
He said that he has invested over 16 years into the business and is now contemplating his next move. "We got to go to court or something, because I can't do anything else right now. I don't have no money, all my money burnt inside there. I don't have any money to invest and start this back. I got workers sitting down waiting to work, bills to pay…my landlord come for his rent now and I don't have his rent," the man told the newspaper.
The police are still collecting statements and questioning workers in keeping with the investigation process.