A woman who was returning home after dropping her sister off at the airport, died on the spot after the car she was traveling in crashed into a parked lorry on the Number 58 Public Road , Corentyne  early Monday morning.
Dead is 52 -year old Soorojnie Surjraj of Grant 1506, Crabwood Creek, Corentyne. Her mother Khemnie Surjraj, 70 and her young daughter Neha Sukhra ,15 ,  sustained serious injuries. The 25- year driver of the car was also injured and taken to the New Amsterdam Hospital.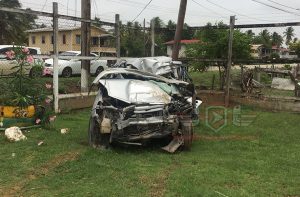 According to reports at approximately 0645 hrs on Monday , the car, bearing registration  HC 2217 was heading towards Crabwood Creek when the driver allegedly lost control while navigating a turn at Number 58 Village and slammed into a parked lorry, pushing it several meters forward.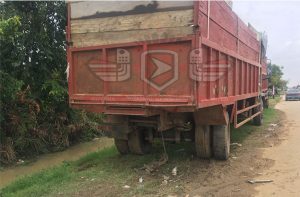 The lorry, bearing license plate number GMM 9207 and registered to Narine Dindial of number 45 village then slammed into another parked lorry.
The relatives of the deceased
and injured were shocked after receiving the dreadful news. Police are investigating the accident.