FIRST Lady Sandra Granger re-commissioned Benjamin's Bakery in Buxton, East Coast Demerara on Friday. The bakery, which has become a household name along the East Coast Demerara (ECD), presented a number of students with bursaries during the reopening ceremony.
The First Lady, in her address, while taking stock of emphasis continuously placed on education by Benjamin's Bakery, said it is one of the bakeries along the East Coast Demerara corridor that takes its corporate social responsibility seriously.
Proprietor Wesley Benjamin has been living in Buxton since 1986.
"Mr. Wesley Benjamin demonstrates great pride in this village and gives back to his community generously. He has taught his children to do so as well," the First Lady said.
She noted that although fire damaged the building last February, Mr. Benjamin nonetheless considered the welfare of his employees and kept the business afloat. The bakery was not only rebuilt but expanded.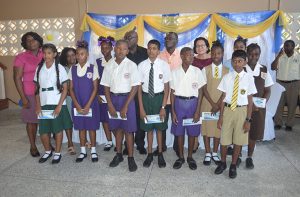 Meanwhile, Benjamin's daughter, Shellon Campbell, in delivering the opening remarks, disclosed that in addition to the residents of Buxton, persons from far flung communities such as Kwakwani in Region 10 and Mahdia in Region Eight have benefitted through projects and programmes conducted by the establishment.
It was explained that schools within the Neighbourhood Democratic Council (NDC) and beyond have also been benefitting from donations from Benjamin's Bakery for a number of years.
Chief Education Officer Marcel Hutson was also among those who applauded the Benjamin's family for fulfilling their corporate social responsibility.
"Over the years this company has been contributing to the development of education, and if all our business people could recognise that they too could make an input in education, we would turn this system around immediately," Hutson said.
Joshua McPherson of BV Primary; Yesodra Ramroop of Mon Repos Primary; Sofona William of Friendship Primary; Kishan Puran of Strathspey Primary; Sierra Gibson of Paradise Primary; Jayanna Isaacs of Company Road Primary; Prem Balmacoon of Lusignan Primary were among others who received bursary awards.
Outside of the establishment, the cutting of the ribbon was done by Benjamin's granddaughter and First Lady Sandra Granger.