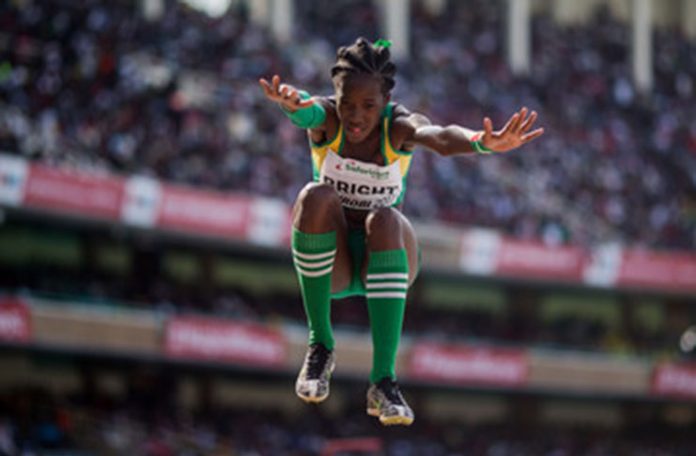 – Guyana end with one gold, four bronze medals
A GOLD medal performance by Chantoba Bright, coupled with bronze medal finishes by Murphy Nash, Deshanna Skeete, Kezra Murray and Shaquka Tyrell, saw Guyana end day one of this year's CARIFTA Games with five medals so far and much to cheer about, as they look to better last year's showing when they won a total of eight medals – the most in the country's history at the prestigious regional championship.
Competing in the Girls' U-20 long jump, Bright, who also won gold in the same event last year, leaped a distance of 5.95 metres to defeat Jamaica's Lotaivia Brown (5.70 metres) and Curaçao's Nasya Ramirez (5.65 metres). It was Guyana's only top-of-the-podium finish for the day.
Bright will feature in the Girls' U-20 triple jump today.
Tyrell actually opened Guyana's medal count with her third-place finish in the Girls' U-17 1500 metres, clocking four minutes 55.97 secs (4:55.97) behind Theresa Graham of Jamaica (4:48.30) and eventual winner, also of Jamaica Rushana Dwyer (4:47.90). Another Guyanese, Kissanna Glen's time of 5:12.43 was just good enough for a ninth-place finish.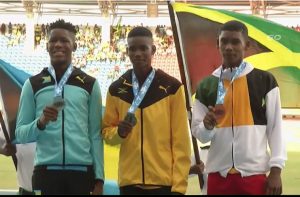 Murphy Nash stopped the clock at 4:13.59 for third in the Boys' U-17 1500 metres, in a race that was won by Jamaican J'Voughnn Blake (4:08.73), while Michelle Curtis of The Bahamas was second (4:13.41). Cordell Charles, also competing in the same race, ran 4:29.35 to finish in eighth place.
Murray, just like Nash and Tyrell, making her debut at the games, running in the Girls' U-20 1500 metres, did well for third, when she ran 4:52.88 to finish behind the Jamaican pair of Kara Grant (4:47.52) and Shaqueena Foote (4:46.56).
Over in the Girls' U-17 400 metres, Skeete, Guyana's gold medallist in the 400 metres at last year's South American Youth Games, in Chile, ran a new personal best (PB), 54.15 secs on her debut at the games.
Skeete was third, coming in behind Daniella Deer of Jamaica (53.95 secs) and The Bahamas' Megan Moss (53.19 secs). Skeete, in 2017, at the South American Youth Games, won gold in the event with 57.28 secs.
Meanwhile, much was expected from Daniel Williams, the 2017 IAAF U-18 World Championships 400m silver medallist, who was competing in the Boys' U-20 400 metres at the CARIFTA Games.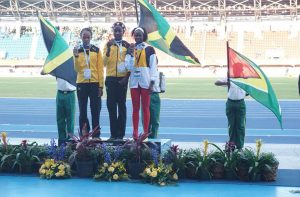 However, Williams' time, 48.35 secs, (his PB is 46.72 secs), saw him finish seventh in the race won by Dashawn Morris of Jamaica, who ran 46.58 secs. Barbados' Johnathan Jones (46.97 secs) was second and Ramsey Angela (47.01 secs) from Curacao was third.
Earlier in the day, US-based Avon Samuels had a hamstring injury and did not finish her Girls' U-20 400m preliminaries. Up to press time, it was not yet known if she will be competing in the 200 metres today.
Skeete will be in action in the Girls' U-17 200 metres preliminaries, with the hope of advancing to the final today. Williams will be aiming to make up for his 400 metres run when he turns out in the Boys' U-20 category.
Also, Murray is set to compete in the Girls' U-20 3000 metres, while Charles and Nash will run in the Boys' U-17. Guyana will also participate in the 4×100 Girls' U-17 and U-20.
In the field events, Princess Brown will be in action in the Girls' U-17 long jump, and the duo of Tremaine Brown and Carl Williams will compete in the Boys' U-20 long jump.