–takes them kites for the Easter holidays
THE look on their little faces said it all as President David Granger and his ministerial team paid the scores of children gathered at the Anna Regina Car Park a surprise visit.
And like every doting parent, they didn't go empty-handed, as they took with them some beautifully-made kites to be distributed among the children, seeing that the Easter holidays are already upon us.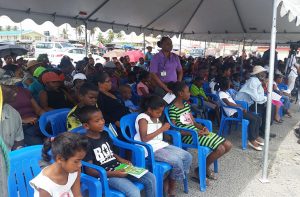 Addressing the mammoth gathering at the Anna Regina Car Park, President Granger said Region Two will always have a special place in his heart, and that whenever he visits he tends to get very nostalgic.
He said, too, that wherever he happens to pay the region a visit, he does so for three particular reasons, one of which is to socialise with the young people.
And, speaking of young people, President Granger seized the opportunity to share with them the meaning of Easter and the purpose behind the tradition of flying kites at this time of year.
Starting at the very beginning, President Granger said:
"During the period of Lent, people denied themselves of meat, and fasted for 40 days and nights.
"Lent starts on Ash Wednesday, so Lent is a period of sadness and fasting. And this is the last week of Lent, which reminds us of the passion and the suffering of Jesus.
"Tomorrow Friday, you will remember His crucifixion, and on Sunday, you will remember His resurrection."
With Easter being one of the most important festivals in Christianity because of its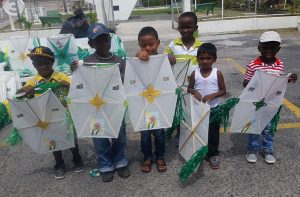 association with the death and resurrection of Jesus Christ, President Granger said:
"Children like to fly kites, and every child in Guyana, and even big persons, can look back and remember when they used to fly kites.
"So today, we have come to share kites and spread the joy of Easter."
Of course, the children were ecstatic, as what he said struck a chord with them. One child named Marvin Pitman said he was delighted to have received a kite from the President himself, and thanked His Excellency and his team for making his day.
Another said that he would be flying his kite at the Anna Regina Seawall.
President Granger did the honours of distributing the kites, with the aid of Minister within the Ministry of Public Infrastructure, Ms Annette Ferguson and Minister of Social Protection, Ms Amna Ally.