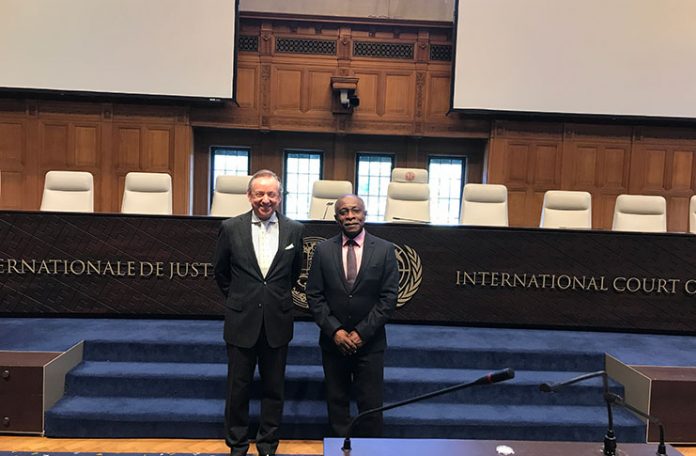 –– application to validate 1899 Arbitral Award between Guyana and Venezuela submitted to ICJ
GUYANA Thursday morning submitted its application to the International Court of Justice (ICJ) requesting the court to confirm the legal validity and binding effect of the 1899 Arbitral Award regarding the boundary between Guyana and Venezuela.
The application was handed over to Philippe Couvreur, Registrar of the ICJ by Vice President and Minister of Foreign Affairs, Carl Greenidge, who will serve as Guyana's agent in the proceedings before the court.
In a statement to the media, the Ministry of Foreign Affairs said the application follows the decision of UN Secretary General, Antonio Gueterres, in choosing the ICJ as the next means of resolving the age-old controversy that arose as a result of the Venezuelan contention that the Arbitral Award of 1899 regarding the frontier between British Guiana and Venezuela was null and void.
According to the statement, Guyana in its application highlighted that Venezuela had for more than 60 years consistently recognised and respected the validity and binding force of the 1899 Award and the 1905 map agreed by both sides in furtherance of the award.
"Venezuela had only changed its position formally in 1962 as the United Kingdom was making final preparations for the Independence of British Guiana and had threatened not to recognise the new State, or its boundaries, unless the United Kingdom agreed to set aside the 1899 Award and cede to Venezuela all of the territory west of the Essequibo River, amounting to some two-thirds of Guyana's territory," the statement by the Foreign Affairs Ministry said.
Guyana contends that while Venezuela has never produced any evidence to justify its belated repudiation of the 1899 Award, "it has used it as an excuse to occupy territory awarded to Guyana in 1899, to inhibit Guyana's economic development and to violate Guyana's sovereignty and sovereign rights."
The UN Secretary-General's authority to choose the ICJ as the means for resolving the controversy is rooted in the Geneva Agreement of 1966, negotiated just before Guyana attained Independence.
On January 30, 2018, Secretary General Guterres concluded that the Good Offices Process, which the parties had engaged in for almost 30 years, had failed to achieve a solution to the controversy and chose the ICJ as the next means of settlement.
Meanwhile, Minister Greenidge said that Guyana, in filing its application to the ICJ, has respected the secretary general's decision and placed its faith in the ICJ to resolve the controversy in accordance with its statute and jurisprudence, based on the fundamental principles of international law, including the sanctity of treaties, the maintenance of settled boundaries and respect for the sovereignty and territorial integrity of States.