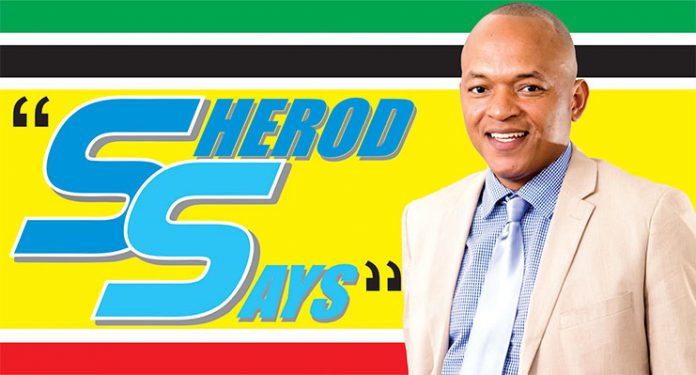 By Sherod Duncan
OPPORTUNITIES abound all around us. A few weeks before 2018 started, I began to think of how people could be successful in 2018 beyond making New Year's resolutions. Resolutions, research tells us, have a high rate of failure. I was looking for more tangible, pragmatic results. I have been reaching out to people in various fields for advice, people who inspire me. Their thoughts have been a source of motivation for me and I hope they will do the same for you as well.
Baroness Valarie Ann Amos, international public servant and politician, was absolutely correct when she wrote to me, people find their own routes to success. There is no one path, no secret formula or magic portions. Everyone's experience is different; and so are the choices needed to be made to get to that place where one feels successful.
Success then, is a "relative term", as my friend Patricia Bacchus, CEO of Caribbean Container Inc., says. "It's a very personal concept. So success for me might not be success for you, it all depends on what our goals are. And there is nothing too small that cannot be considered as a goal for success. I know people tend to measure themselves against each other, or they have an iconic view of what success is, which largely entails financial rewards and fancy automobiles, but people need to realise that success can be found every day."
For me, success is finding your strengths, the things that you love to do, that you find satisfaction in and doing them to the best of your ability. And time is limited. James Citrin and Richard Smith might be on to something. In their book, The Five Patterns of Extraordinary Careers, they point out soberly, that, "If you have been unable to migrate your career towards roles, that role play to your strengths and passions, enabling the kind of impact to attract the most important opportunities, then you may have lost your greatest opportunity for momentum."
Vishnu Doerga, CEO of Action Coach, is one of the foremost leadership and business coaches in Guyana. He has the belief that everyone is equal but different. He is of the strong view that sometimes instead of looking up at the sky and asking God 'why', we should look inward, looking at the gifts that we are blessed with. He says, "I'm blessed with a good, strategic business mind. I can't run or sing to save my life and there are many other things I cannot do well. We all must discover the gift(s) we have been blessed with. If you want success choose to develop what God has given you."
His advice is to seek, develop, and apply appropriate knowledge and abilities. He said, "Some people think knowledge is everything. But having the knowledge of what something is and using that knowledge are two different things. The first thing you have to agree on with yourself is that you don't know everything. Whenever I see people behaving as they do, I know they are limited. If every day you learn by one percent in 50 days, you'll be twice as good. There is no silver bullet, that magic tool that will save their lives. It doesn't exist. Just focus on getting at least 1% better every day."
Patricia, also, is of the view that part of our growth and success journey is to, "Be interested in your own company. I've always been very interested in my own company: I don't like noise, or crowds. As I got older and began to consider what was really important to me and what I disliked, I became comfortable with my preferences. Even if you're extroverted, you should still be comfortable in your own company. Tear away the layers and understand your strengths and weaknesses. And from understanding yourself better, I find you gain such an understanding of other people. Sometimes we hold our standards as applicable to everyone without allowing for differences. If you understand yourself better, you understand people better and you respect them."
And I like as well what Tamika Henry, Curl Fete creator, encouragement is – remain open minded. Tamika says, it's important to, "Remain open minded to new ideas and innovations. And always be ready to recognise inspiration when it shows up." Indeed, too many persons remain closed to new ideas and as a result, new opportunities elude them.
Businessman Terrence Campbell of CAMEX Restaurants advises us to invest now. He says, "It might be way too costly to do so after 2018".
"Let's look at real estate – foreigners will pour in. Some are already buying. A lot of money will be circulating chasing existing stocks. Values will appreciate tremendously. Home values may triple". We can apply, "invest now" to other areas of our lives…health, education, relationships etc. I say look for your unique opportunities and invest.
I think entrepreneur and thinker Steve Jobs put it best when he said, "Your time is limited, so don't waste it living someone else's life. Don't be trapped by dogma — which is living with the results of other people's thinking. Don't let the noise of others' opinions drown out your own inner voice. And most important, have the courage to follow your heart and intuition. They somehow already know what you truly want to become. Everything else is secondary."
Whatever your definition of success, and where ever you are on your journey, it is my hope that something here resonates with you and becomes part of the impetus that moves you forward to achieve your goals personally and professionally. Let your potential become reality and I am certain Guyana will be a much better place.