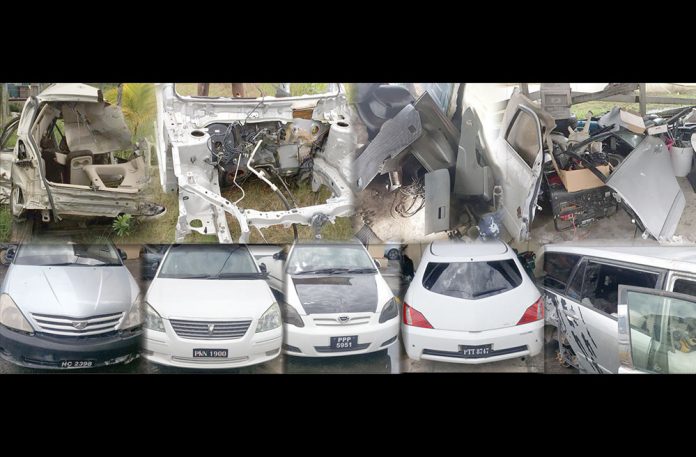 …six more nabbed in 10-hour operation
…two cars, truck and shell of other vehicles found
AMID an all-out war against carjacking police in 'A' Division rounded up another six suspects and seized two cars, a truck and the shell of another vehicle during a 10-hour long operation at Kuru Kururu, on the Soesdyke-Linden, Highway.
An electrician and a mechanic are among the six persons arrested during the operation which began early Tuesday morning. Tuesday's operation comes days after police had smashed the gang, which seems to be headed by an ex-policeman.
Crime Chief Paul Williams on Sunday had urged owners of vehicles not to let their guards down as the fight is not yet over. "Do not be relaxed, I don't think it's totally over, it simply means that it is being quelled because of our proactive approach and we are able to suppress it, but there are still persons out there who are lurking and are just waiting for the opportunity to strike," Williams told Guyana Chronicle.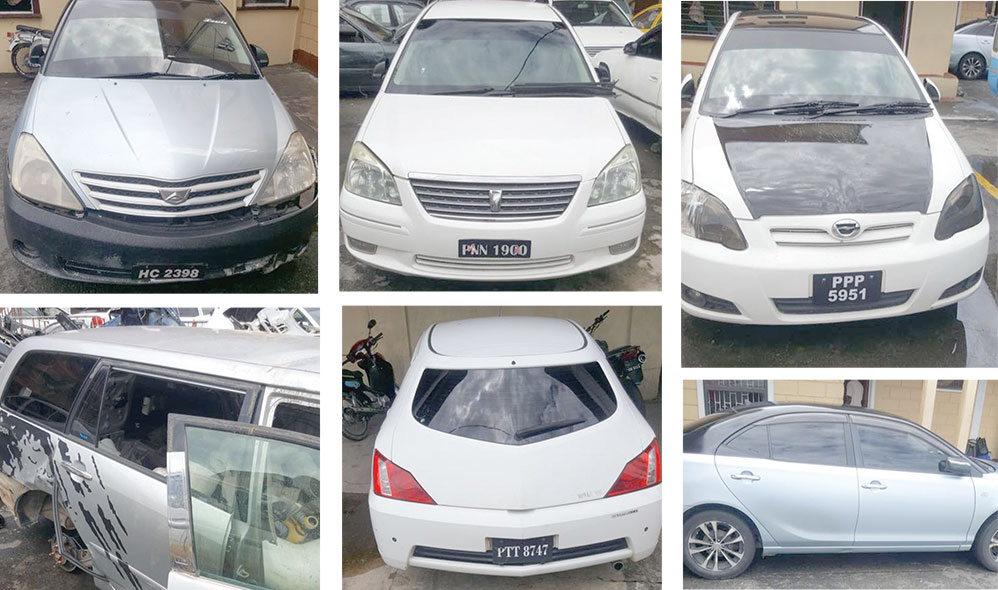 He explained that the police have been able to put a dent in the carjacking rings after carefully accessing the trend in the various divisions and among persons who were arrested for armed robberies. He said the police have been able to determine that in many instances, persons involved in robberies are also into car theft. He noted that when they arrest suspects and impound their vehicles, checks would normally find the colours, chassis numbers and other components of the vehicles do not match the information on the registrations.
Meanwhile, with regard to Tuesday's arrests, police said the suspects are reportedly employed by the ex-policeman who is in custody along with others assisting with the investigations. According to the police, two motorcars along with a canter truck which is registered to a Barr Street, Kitty resident, loaded with the shell of a silver Toyota Spacio and a quantity of vehicle parts, suspected to have been stolen or unlawfully obtained were seized and lodged.
Over the weekend several taxi drivers who operate at the Soesdyke Junction, East Bank Demerara ,were also taken into police custody for questioning and their vehicles impounded at the Brickdam Police Station as investigations continue into a spate of carjackings and stolen vehicles. On Monday, certifying officers of the Guyana Revenue Authority (GRA) commenced assisting the police in checking the vehicles.
Information pertaining to the ownership of vehicles and the dates they were imported is provided by the police. Additionally, the police said that there are a number of unauthorised workshops throughout the country. The operators of these places will have to provide the cops with details regarding the origin of spare parts. Police will also be examining taxi bases to see if any stolen vehicles are in operation.
On Friday last, a former policeman, a husband and wife and four women, were taken into custody following the discovery of several suspected stolen vehicles and parts at North Vryheid's Lust, East Coast Demerara and Monument Hill, Kuru Kururu, Soesdyke/Linden Highway. It is believed that the vehicles might have been hijacked and stripped of their parts which are being sold.
Police ranks from the Major Crimes Investigation Unit swooped down on the North Vryheid's Lust premises occupied by a 29-year-old taxi driver and his 25-year-old wife, where they found several car mirrors with engraved licence plate numbers doors, lights, wipers and other vehicle parts for Toyota Allion, Spacio and Premio motor cars. As a result, the couple was taken into custody after the husband provided the police with conflicting stories as to why the suspected stolen vehicle parts were piled up at his residence.
When he was first questioned by ranks, the man claimed that apart from being a taxi driver he is employed with an auto spares company for which he was storing the items. However, after it was put to the taxi driver by the cops that the auto spares company does not buy, sell or import used vehicle parts, he changed his story. This time, he claimed that he was not employed with the auto sales company and that he was just storing the parts for the company.
Meanwhile, on the aforementioned day the ex-policeman and four women were detained after police ranks in 'A' Division went to a property at Monument Hill, Kuru Kururu, and conducted a search during which a quantity of vehicle parts and several vehicles suspected to be stolen or unlawfully obtained were found.
The items have been lodged at the Timehri Police Station. One of the several photographs released by the police, showed a number of the vehicles and spare parts that were seized. Police have so far taken possession of vehicles such as Toyota Runx, Nissan Bluebird, Toyota Allion and Toyota Premio.