-as carjacking crackdown continues 
Police ranks in 'A' Division during a 10 hour operation which concluded at 03:00hrs this morning at Kurukururu, Soesdyke/Linden Highway, arrested six persons.
According to the police , two motorcars along with a canter truck which is registered to a Barr Street, Kitty resident and which was  loaded with a shell of silver Toyota Spacio and a quantity of vehicle parts, suspected to have been stolen or unlawfully obtained were seized and lodged.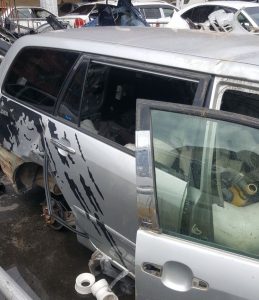 The suspects are reportedly employed by an ex-policeman, who is in custody along with others assisting with the investigations.
In recent days , the lawmen have been working around the clock to further dent suspected carjacking rings with arrests also made on the East Coast of Demerara .
Several taxi drivers who operate at the Soesdyke Junction have also been detained as the probe widens.