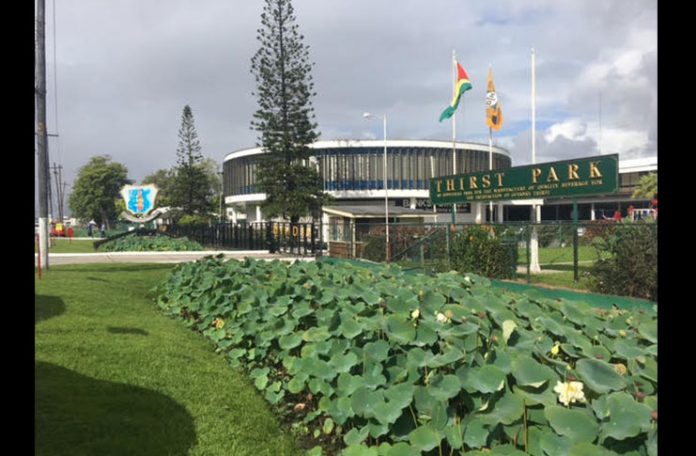 By Francis Quamina Farrier
IF YOU are a regular reader on my Pepperpot articles, you would know that I grew up in Mc Doom Village, East Bank Demerara, which is now part of the extreme southern area of Georgetown, Guyana's capital city. As such, I grew up with sugar plantations and sugar factories all around, and have seen them thrive for decades, but later disappear and replaced by other successful enterprises.
With that opening paragraph, you are already aware in which direction this feature article is heading; what has been the prospect of sugar workers when a sugar factory here in Guyana closes down. The examples go back for well over a century when sugar factories and plantations came to an end. Let's think of Ogle and Chateau Margot on the lower East Coast of Demerara. In the case of the latter, the sugar factory's chimney remains a tall and impressive edifice, which I know can be seen many miles out at sea, when land is not visible. I speak from personal experience.
On the East Bank of Demerara, there were the Ruimveldt Sugar Factory, the Houston Sugar Factory and the Diamond Sugar Factory. As students we were taught that the Diamond Sugar Factory was the largest in the country; something we, as young students growing up in that part of the colony, were very proud of. We were also taught in school, some of the history of the sugar production and the many sugar factories which were closed down decades before our time. For example, we were taught that there used to be sugar plantations and factories on the Essequibo Coast – the largest was at Anna Regina – but they were all closed down over time, and that there was no longer any sugar production on the Essequibo Coast. Successful rice cultivation replaced sugar in that area of the colony, and some rice farmers even became millionaires.
Over the decades, sugar factories in Demerara and Berbice continued to be closed down one-by-one; sugar production in Guyana was slowly coming to an end; creeping oh, so slowly, like a turtle with a heavy parcel of Demerara Brown Sugar on its back. At this time, 2017/2018, the recent closing down of a few more sugar factories has taken on a very serious political debate, and from where I look, the sugar workers seem to be used as pawns in a political wrangle and a tangle, which now happily, seems to be finally heading in a direction of a positive compromise, and hopefully with all the stakeholders being satisfied.
However, this feature article is not about the bitter on-going political face-off between the Government and the Opposition, but rather, the sweet follow-up to the closing down of those three East Bank Demerara sugar factories at Ruimveldt, Houston and Diamond, which gave a livelihood to thousands of sugar workers on the East Bank of Demerara, when they were in operation many decades ago.
Replacing that large sugar factory at Diamond is a beverage production complex (DDL), inclusive of a mini Sugar Production Museum. After the closing down of the Houston Sugar Factory, the operation swam out to the Atlantic Ocean, so to speak, with a very successful fishing operation which has created employment for scores of Guyanese workers. A few of the sugarcane fields were even utilised as grazing pastures for cattle. Less than half a mile further north, the dismantling of the Ruimveldt Sugar Factory saw the erection of an impressive Rotunda, in a beverage, bread, crackers and other eatables complex, known as Thirst Park. There, some of the most brilliant minds have fashioned a respected and progressive public company; BANKS DIH Limited, which emerged from The D'Aguiar Imperial House (DIH) Family business.
Historically, that was the very first private family company of its size to have offered shares to the public, which was the initiative of the visionary businessman, Peter Stanislaus D'Aguiar. Hundreds of Guyanese bought shares, and over the decades have had no reason to regret doing so. Some of those shares have been passed on to the children and grandchildren of the original Shareholders. With the passing of the Founder Chairman, Peter D'Aguiar, the company has grown and prospered over the past six decades, with the capable leadership of the present Chairman, Clifford Barrington Reis, CCH, whose main message over the years to shareholders is, "Do not sell your shares."
As I am working on this article, a 15-year-old student of the Bishops' High School has just told me that he saw me at the recently held January 27, 2018, Annual Shareholders Meeting at Thirst Park, and informed me that he is a Banks DIH shareholder. He said that his father bought the shares in his name. That supports one of the rallying points which the Company Chairman, Clifford Reis made in his 2017 Annual Report, that he was observing more young people becoming interested in buying shares in the company.
Since the present generation is benefitting from the wise decisions of the previous generations in buying Banks DIH Shares, a decision was made some years ago to mount a bust of the late Company Chairman, Peter D'Aguiar, in the forecourt of the Thirst Park Gardens. That, in a way, can inspire younger staffers and employees of the company, to work even harder toward a public company which is growing from strength to strength.
So, with the above history of sugar production here in Guyana, I guess it is safe to say that the current sugar workers who have been retrenched, will not suffer and die, but rather find new, and possibly, less strenuous and even more lucrative means of livelihood.