By Tamara Tucker
THEY say that fashion makes a statement and turns heads. This is exactly the intention of young and upcoming designer Jason Shurland who is currently in full gear and hype for the Mashramani festivities with the release of his wire bra collection called "Nudes".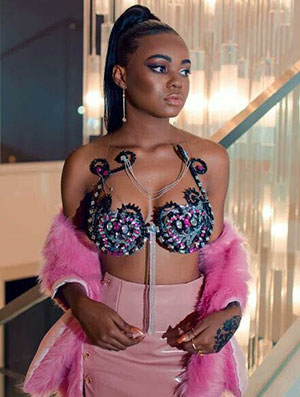 The idea for the collection was inspired by an eyeshadow palette from Maybelline makeup which is filled with nude shades for all skin tones. So Shurland's wire bras are available in rose gold, silver, gold, black and blush pink. He added that there are no colourful wire bras as we would see in other countries.
"I wanted to brand Guyana very different! So we can make an impression," the designer told The Buzz. And, based on sales, it seems as though they have already begun to do so since the first set of wire bras from the collection is sold out already. Shurland said that he has received queries from potential clients the USA, Jamaica, Guyana, England, St Vincent and Barbados and they continue to ask for more, which he is currently working on.
The second part of the collection will only be 20 bras, he said, adding that these will be sold on a 'first come, first serve' basis. Shurland also related that many countries over the years such as Brazil, Trinidad & Tobago, Venezuela and other countries cause attention around the world with the unique wire bras and Guyana can be added to that list.
The ambitious designer describes himself as passionate, driven, creative, feisty and self-motivated. He also describes his wire bras as not too revealing but made to provide a great sparkling look on individuals. He also described the bras as more of a piece of jewellery which can be worn as a statement piece.
"We have our own culture and [Mash] is about having fun and being comfortable in whatever we choose to wear and this wire bra is not just a bra but an elegant piece that also lights and glitters in the night," he said. Shurland said that as a designer who's emerging on the local scene he has his sights set on other Caribbean territories but first, he wants to mark his name in Guyana and then from here he can go bigger and better.
He shared with The Buzz that someone from Paris has already found interest in his pieces and wants him to do a runway show, however, he admitted that it was too costly. He said in the next five years he will be able to start doing things for Paris and Europe but for now he will just start off with the Caribbean.
He said his way to persuade other men to get involved in designing is to look at the bigger designers that are international, from Europe, Paris, England and also the United States. "Think about how much you can do; how much you can influence someone; how much the world will be better if you come as a Caribbean designer and add something and brand your name. There are so many male designers out there that we do not know that make brands that we wear in the Caribbean," he said.