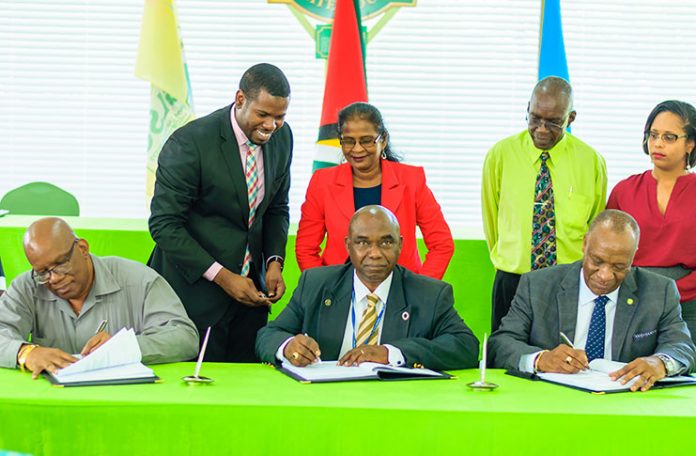 …with signing of US$15M pact between Guyana, FAO
THE Government of Guyana and the United Nations Food and Agriculture Organisation (FAO) signed a US$15M Sustainable Land Development and Management agreement – paving the way for the implementation of a project that resulted in the development of the country's first National Land Policy and the simultaneous strengthening of institutional and human capacities.
The agreement was signed by FAO's Country Representative, Reuben Robertson, Guyana's Minister of State, Joseph Harmon and Finance Minister Winston Jordan, in the presence of President David Granger at State House on Thursday. Vice President and Minister of Indigenous People's Affairs, Sydney Allicock; Minister of Natural Resources, Raphael Trotman; UN Resident Coordinator, Mikiko Tanaka; and Commissioner of the Guyana Lands and Surveys Commission, Trevor Benn, were among those who participated in the signing ceremony at State House.
FAO and the Guyana Lands and Surveys Commission are partnering to execute the multimillion dollar project. FAO in opting to partner with the Lands and Surveys Commission and the Ministry of the Presidency's Project Management Office (PMO) committed US$100,000 to facilitate the recruitment of consultants and to provide technical expertise within the FAO to assist with the formulation of the project document.
In his remarks during the signing ceremony, the FAO's Country Representative said the US$15,092,277 project of which US$14,092,277 is funded under GRIF, seeks to address four main areas over a period of four years.
Mainstreaming Sustainable Land Development and Management in Policy, Regulation, Institutional and Governance mechanisms to prevent land degradation and restore degraded lands, are the objectives of component one, Robertson explained while noting that Component Two will address the strengthening of Institutional and Human Capacities.
Under Component Three, local governance in three regions will be strengthened for the implementation of Sustainable Land Development and Management. The final component will address project management, monitoring and evaluation.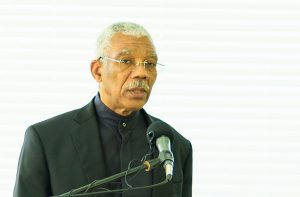 Robertson said over the next four years, it is expected that an enabling environment for Sustainable Land Development and Management will be mainstreamed. "The conflicts which currently exist are addressed through the strengthening of policies, legislation and improved governance mechanisms," he posited. Additionally, it is expected that the project will contribute to the Government's policy on achieving a Green State.
Commissioner Benn said the Lands and Surveys Commission is faced with many challenges, and the project will seek to address many of those. "In recent years, Guyana experienced an expansion of land-based investment across the country, forestry, agriculture and mining, to name a few, on public lands, but these investments have been plagued with a number of issues including overlapping responsibilities and conflicting[sic] resulting there from. We suffer from a lack of comprehensive baseline information to help us to make analytical decisions and we have an absence of good monitoring practices and framework for overseeing the work that we do when it comes to land," he explained.
With the role out of the Sustainable Land Development and Management Project, Commissioner Benn said the Commission's capacity to fully execute its legal mandate in a sustainable and effective manner will be significantly strengthened.
It was appointed out that in Guyana, there are 34 legislation that speaks to land – a situation that has caused a number of issues. These issues of overlapping, however, will be addressed during the life of the project, he assured.
"Additionally it is expected that there will be enhanced land governance through regulatory and financial systems, spatial data information and management, and enhanced institutional capacities. Importantly, the project will also assist in building the capacities of key stakeholders outside of the commission, the capacity of GLSC will be strengthened through updating and streamlining institutional responsibilities and procedures, and establishing an opened data environment," Commissioner Benn further explained. It will also allow for the country's first National Centre for Geospatial Excellence.
President Granger, in his address, said Guyana's land-based natural capital must be managed sustainably if present and future generations are to enjoy the 'good life,' and the project will aid in that regard, in addition to the Green State Development Strategy.
"Guyana is crafting a Framework Document of the Green State Development Strategy in order to ensure sustainable development. Land use planning and natural resource management are among the core strategic areas. The 'Strategy' will place emphasis on the effective management and protection of our land and marine resources, our ecosystems and the rich biodiversity of these systems, inter alia," the President explained.
He, however, took note of the fact that increased demand for lands for farming, logging and mining has increased the threats to the country's natural capital with logging and mining listed as the main causes of deforestation. "Small-scale mining alone accounted for 89 per cent of deforestation over the past three years. River mining is polluting our waterways on which many hinterland residents still depend for bathing, drinking, fishing and washing," he pointed out while noting that reckless use and management of land can impact adversely on the environment and citizens' quality of life.
For these reasons, he said Guyana has committed itself to preserving its land assets. "It has agreed to place an additional two million hectares of our territory under conservation and convert the Iwokrama International Center for Rainforest Conservation and Development into a world-class biodiversity research facility. We shall also promote more efficient mining and logging practices, including post-extractive land reclamation; push sustainable forestry practices including reduced-impact logging and improved forest monitoring and pursue mineral mapping so to identify areas of marginal, or less than viable, mineral deposits," he stated.
Meanwhile, the Finance Minister in endorsing the project, said it is designed to ensure that the productivity and economic potential of the country's land is maintained.
"Indeed, the overarching goal of sustainable land management should be to contribute to government projects and programmes that are aimed at achieving poverty reduction, economic growth , while promoting the full utilization of land resources in a sustainable manner. As such, issues to do with improving land tenure security; enhancing the efficiency, transparency, and improving service delivery of land titling and registration, and enhancing local government capacity to undertake land management functions, must be brought into contention. I am happy that this project has been designed to tackle many of these areas," Minister Jordan stated.
He noted that land management is essential since it combines technologies, policies and activities with socio-economic principles and environmental concerns, in order to maintain and enhance the production of goods and services.