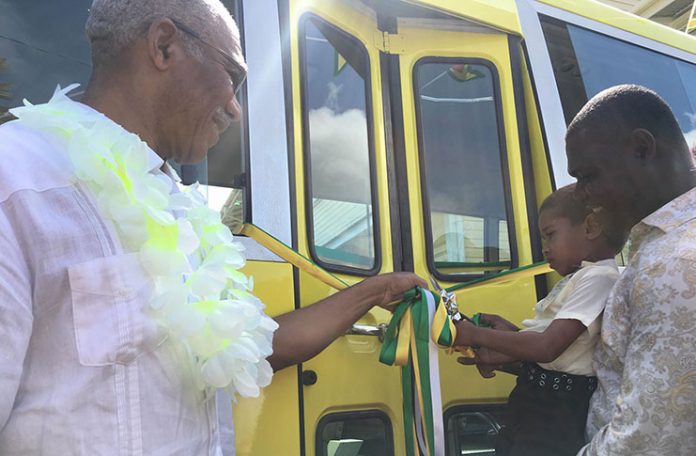 …another bus commissioned at Fyrish
PRESIDENT David Granger on Friday commissioned yet another 36-seater bus, as part of his bicycle, bus, boats, books and breakfast (5 Bs) initiative, which was donated by Peter Lewis of Associated Construction Services.
The programme which is spread across the country has already made an impact in school attendance and the performance of students, regional leaders told a gathering at the commissioning ceremony held at the Fyrish Primary School, in East Berbice-Corentyne.
In his address, President Granger stressed that the objective of his government is to not simply provide a bus for transportation but rather level the playing field, thereby allowing equal access to education which he stated is the gateway towards empowerment.
"The aim is not just to provide a bus but to provide equality in this country and I believe the country can never be truly equal unless children have equal access to education – that is the root of equality. Everyone can benefit from what this country has. Education is the gateway, if you can't read, write, count or spell how can one gain employment?".
The President continued by highlighting the fact that in order to really play a meaningful role in society, a person should have some form of education and this is why his focus is on schools and educating the nation. "If you want to live to enjoy the good life you need to have an education, this is where it starts; that is why there is so much emphasis on the school. We want to start at the grassroots level.
This is the gateway to empowerment; once you have a sound education the world is open to you. I particularly want to see full employment, if you are educated you can become self-employed, everyone can't be employed in the public service, but we believe with good education Guyanese can be self-employed and that's the best form of employment."
The Guyanese leader further stressed that through education the nation will be able to satisfy its own employment needs by citizens using their knowledge and starting micro and macro enterprises with the abundance of resources available. "Everything [that] can be produced here can be exported and sold .
We are the gateway to the continent, there is work, there is employment, there is enterprise beckoning to all of you if you are educated." President Granger said "You can process fish, fruits for fruit, you don't have to be selling at the bridge plantain chips you can package them and sell it to other countries…if you have the education you can make use of these raw materials and this is what an education can do for you, it is not going to give you a job in the government service, it is going to show you how you are going to employ yourself and produce the things which other countries need."
Regional Executive Officer Kim Stephens-Williams believes that education is the key to alleviate poverty and that children need to be given the best opportunities to access education. She disclosed that since the implementation of the 5Bs initiative, education in Region Six has seen tremendous improvements and parents were able to save money. "We have already measured an increase in schools attendance as well as improvement in punctuality and grades at various schools across the region." Presently, they are three buses operating in the Region Six, East Bank of Berbice, Central Corentyne and Upper Corentyne.
Minister of Social Protection, Amna Ally, said the success so far of the project is testimony of what good governance is. She said they have defied critics who wanted to see the initiative of the President fail when it started. "It's a government that cares for its people, we have a leader who cares about the children and the people of the nation. You the people of Region Six know that he is a visionary leader and his vision for this nation will take Guyana to new heights. We will soon see a paradigm shift in our education system. We have a President who believes in reducing poverty, inequality and providing a good life for all," Minister Ally told the gathering.
Minister Ally also refuted claims that the government is placing emphasis only on areas where supporters of the coalition reside and shunning others. "I wish to note that we are ready and willing to work with all regardless of race, religion and political affiliations to ensure that our children have a bright future ahead of them. Since the commencement of the programme in 2015, we have had many critics and saboteurs who wish to see this programme fail, but regardless of their efforts our programme has continued to expand and progress throughout the length and breadth of Guyana."
She related that hundreds of bicycles have been distributed, numerous boats and a total of 26 buses are servicing different regions and communities. She noted that Region Six is one of the biggest recipients of the programme with a total of three buses currently operating in several areas within the region along with a boat.
"Region Six was not one of the regions the coalition won in 2015, we did not have majority support in East Berbice-Corentyne, yet there are buses that serve those areas .We are a government for all the people of Guyana. The 5BS programme has become extremely successful because we are bridging the gap of education between hinterland and coastal regions by providing increased access to transportation for schoolchildren to get to and from school."
The minister said that the programme has already been impacting positively on attendance as well as easing financial burdens on the parents. "We are seeing the benefits, improvement in school attendance has significantly improved in areas where the buses are operating and parents are pleased that additional costs have been removed," Minister Ally said.