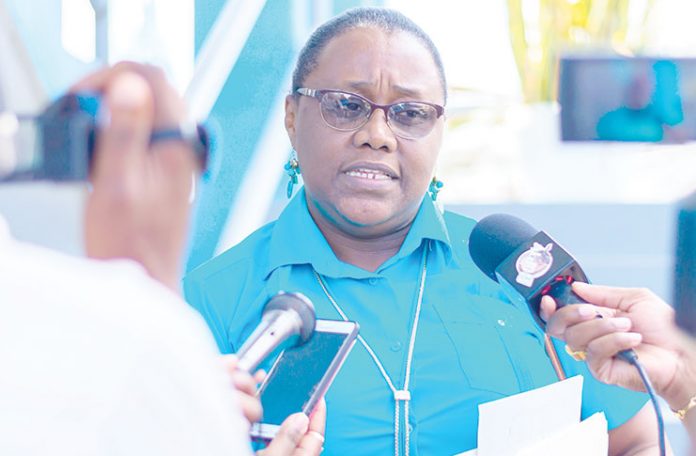 …over move to convert prospecting licences to medium-scale tenures
THE Guyana Geology and Mines Commission (GGMC) said it will be accepting applications for the conversion of Prospecting Licences (PLS) to Medium Scale Land Tenures, but the big question is, is this legal?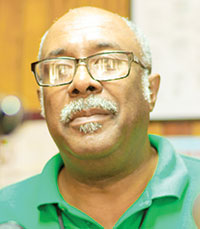 For the Minister within the Ministry of Natural Resources Simona Broomes, it is illegal. Acting GGMC Commissioner Newell Dennison, on the other hand, has remained tight-lipped about the situation, saying he will only address the matter under certain conditions.
In an advertisement placed in one of the local newspapers recently, the GGMC called for the "Conversion of Prospecting Licences to Medium Scale."
"The Guyana Geology and Mines Commission will be accepting applications for the Conversion of Prospecting Licences (PLS) to Medium Scale Land tenures, until January 31, 2018, after which time applications for such conversions would not be accepted and processed," a section of the ad read. It was noted too that all applications received before the deadline would undergo the requisite due diligence required to guide the requested conversion.
Minister Broomes, when approached by media operatives on Friday, said the notice was brought to her attention hours prior by a reporter. Based on her wealth of experience in the field of mining, having been a miner for over 20 years, Minister Broomes explained that Prospecting Licences are issued to large-scale miners and not medium-scale miners and as such, conversion of the PLS to Medium Scale would be a breach of the Mining Laws and Regulations.
"I don't know that such provisions are catered for in the regulations or in the Act. I don't know anything about it," she told reporters, shortly after exiting a meeting with Minister of Natural Resources Raphael Trotman at GGMC headquarters.
Prospecting Licences, she added, come with a string of benefits, and it is unclear whether those benefits will trickle down to the medium-scale operations. For clarity on the matter on whether it is legal or not, and provisions under such "conversion," the Minister within the Ministry of Natural Resources said the GGMC Commissioner should be contacted.
The Acting GGMC Commissioner, when approached by reporters on Friday, declined to give an immediate response, saying that written questions should be submitted to his office and in time, he will draft his answers. "I know the advertisement but I don't know that it requires for me to make a comment in this fashion on what has been put in the paper. What I am trying to do here is to avoid making a comment on camera for a question that has just been put to me…I don't want to make a comment," Commissioner Dennison repeatedly said while urging reporters to submit written questions.
The Guyana Chronicle was unable to ascertain where in the Mining Act allows for Prospecting Licences to be converted to Medium Scale Land tenures. The 1989 Mining Act allows for four scales of operation – Small Scale Claim, Medium Scale Prospecting and Mining Permits, Prospecting Licences and Permission for Geological and Geophysical Surveys. In 2013, there were 2513 Medium Scale Prospecting Permits and 18 Prospecting Licences in existence. On Friday, the GGMC Commissioner declined to disclose how many Prospecting Licences were in the system.
Chairman of the GGMC Board Stanley Ming, when contacted by the Guyana Chronicle, said that "as far as I am aware, conversion of PLS to Mining Permit is something going on for years." But when he was asked whether it is legal to convert a Prospecting Licence to Medium Scale Land tenure, Ming said Commissioner Dennison should be contacted for technical and legal details, explaining that he does not engage in the day-to-day operations of the commission.
President of the Guyana Geology and Diamond Miners Association (GGDMA) Terrence Adams, however, explained that the GGMC in issuing the notice is attempting to halt a precedence that was set under the previous administration. "It is nothing new," he told this newspaper when referring to the conversion of Prospecting Licences to Medium Scale.
Contending that not a lot of people and companies have been issued Prospecting Licences, Adams said the January 31 deadline for the submission of applications will give all holders of PLS an equal chance to convert to Medium Scale, before it comes to a complete halt.
"When you convert you lose…it (PL) has certain concessions, certain benefits attached to it but when you convert to a medium scale you lose out on all those options," the GGDMA President said. But he would not say whether it is legal or illegal.
"The process started a couple of years now. GGMC is trying to put an end to it, so after now (January 31), you will not be able to convert to medium scale. It is a precedence which started under the previous administration and all they are trying to do is correct it," Adams maintained.
Miner complained
Meanwhile, Carol George, a miner, complained bitterly over the holding of PLS beyond the stipulated time frame. This, she said, should not be tolerated. Minister Bromes had spoken about a similar issue. "What I found when I was looking at PL is a lot of non-compliance," Minister Broomes told reporters. According to the Mining Act, a person who holds a prospecting licence may apply for a renewal of the licence, but such application should be made not more than twice, but not exceeding one year on each occasion. A PL is usually for a period of three years.