–as PI into murder of elderly Bourda women begins
THE preliminary inquiry into the murders of the two elderly women who were killed during an invasion at their South Road and Albert Street home in October last, started on a high note, when one of the accused fainted in court during a witness testimony.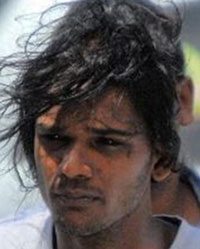 The alleged mastermind, 23-year-old Christopher Khan, called Imran Khan, and his two accomplices, Steven Andrews (26) and Phillip Suffrien (23), all residents of Albouystown, are before Magistrate Judy Latchman.
During Thursday's hearing, while Police witness, Troy Henry was in the witness box, Suffrien disrupted the court to profess his innocence, claiming that he is suffering in jail wrongfully.
As Andrews sat quietly in the box with a bible in his hands and tears running down his face, Khan turned to Suffrien and said: "Boy, just stop and tell these people the truth 'cause is you hold down these people."
Before Khan could continue, Suffrien fainted and caused the matter to be adjourned.
As the drama unfolded, relatives and friends of the two murdered pensioners sat quietly in court, reading their bibles, across the way from the relatives of the three accused.
Suffrien, with the aid of police officers, was lifted out of the courtroom to await the arrival of an ambulance which came less than 45 minutes later and carted him away.
The two elderly women were found lying face down in separate bedrooms at their Bourda home on October 3, 2017 with their hands and feet bound and mouths gagged. According to a relative, the house was ransacked and quite a few items appeared to have been missing.
Reports from the police have since revealed that a door to the upper half of the two-flat building was breached.
Relatives said it was the third time the women had been robbed, with one recalling that during the last incident, the intruders had made off with cellular phones and money. It was also the second time they had been robbed after receiving their monthly pensions.
Government Pathologist, Dr. Nehaul Singh gave the cause of death of both women asphyxiation due to suffocation and manual strangulation, compounded by trauma to the head.
Khan was arrested a few days after the murder by police on the Essequibo Coast, while his two other co-accused were apprehended less than two days after the murder. The men reportedly told investigators that Khan was the mastermind behind the crime. They allegedly further confessed that after stealing the items and money, they escaped on foot, taking the booty to Khan's girlfriend's home in Albouystown.