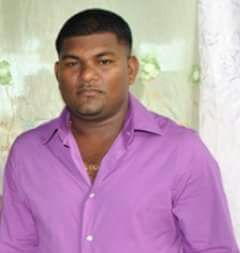 Commander of the Special Weapons and Tactics (SWAT) unit of the Guyana Police Force , Deputy Superintendent , Motie Dookie was on Sunday being questioned over a quantity of smuggled Johnnie Walker.
Dookie was busted with 30 cases of smuggled Johnnie Walker whiskey earlier on Saturday night by his colleagues and was being detained at the Whim Police Station following the bust.
The man's relatives are disputing earlier reports that the senior officer escaped while under arrest , noting that he was released from custody by ranks of the Whim Police Station and is assisting  with investigations while the driver of the vehicle in which he  was travelling  remained in custody.
Reports are that the driver of the vehicle was once the manager of a popular bar in the city.
The police in a release stated that Dookie and the driver of the minibus were the only occupants and from initial reports the senior officer indicated that ten cases of whiskey were in the minibus and he was taking it to be used for 'a party'.
However, a search of the minibus revealed the thirty cases which were seized. Dookie , who is based at Police Headquarters in the city was not permitted by his Commanding Officer to leave Georgetown.
An investigation has been launched into the incident.