Jackie Jaxx returns to the music scene
AT the turn of 2017, 'Jackie Jaxx' Hanover was as "out there" as any other public figure. After all, that was what her career was all about- being on stage, being seen, and interacting with the public. But somewhere along the road, the hype of popularity became overwhelming, and realising that she needed to take stock of her journey for the good of her career, Jackie took a step back from it all. And after a months-long hiatus, the vibrant songstress is back with a new sound, new music and some sage advice: sometimes the hype is not all it's cracked up to be.
In an exclusive interview with The Buzz, Jackie confessed that after several years on the local music scene, she felt that she had reached a proverbial dead-end where her career was concerned.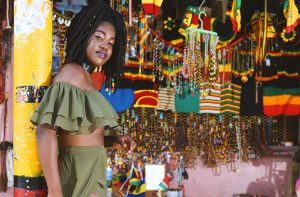 "I personally believe that I hit a wall creatively with the plans that I had set before," Jackie said. "My plans were only made for me to reach a certain level; for me to execute certain things…after managing myself for a few years, learning the industry, getting used to handling the business side of things, I realised that I could no longer deal with what was in front of me. I had a lot of opportunities and I didn't know how to deal with all that, how to do negotiations, how to handle business meetings. There were a few times I was taken advantage of and where I was not being fair, so those were not healthy business practices."
More than that, Jackie added that the social aspect became a lot for her to handle, and before she knew it, she was unable to effectively deal with the scores of people she was in contact with on a daily basis. Within the years of becoming a performer, the young artist had racked up more than 15,000 followers on social media, many of whom were eager to connect with her because of her music. "You always have people in your inbox, people are always tagging me, so it was too overwhelming- people were opening up to me asking for my advice," she said. "And I love people! One of the things that helped me so far is because I am a people person but I have learned you need to have healthy boundaries. I am now growing as a person, I am now 27 years old and in my maturity, I am seeing things differently."
The break
It was then that Jackie realised that she needed to take a step back if she really wanted to grow her career and stay true to her passion for creating good music. "I felt like I didn't know how to handle the music business anymore. I was very excited coming into the business. I got a lot of support but met a lot of opposition. Unless you have a mindset to deal with all these things, you will fail, and I think I failed. And music is what I love doing and I didn't like the idea that I couldn't function effectively doing what I love doing," she said.
And so, Jackie did what many of us today could not stand to do: she unplugged. There was no more Facebook, Instagram or any other means of socially connecting with the world. She was still using the internet, but only for research and other ways of building herself. It was time to focus on Jackie.
"I have been working on my mindset; being more mature in my decision making; challenging myself to learn more. I looked at a lot of motivational videos and I spoke to people very close to me and they told me where I went wrong. I surrounded myself with positive people, read self-help articles. I focused on positivity, introspection, I meditated, I exercised. You see, everything works in tandem- your spiritual, physical and emotional health and stability and so a healthy respect for people comes from respecting yourself," she said.
New music, new sound
During that time of introspection, Jackie was able to work on herself, and she admits that getting more in tune with that side of life has allowed her to rediscover who she is as a musician. "I have been writing. I bought studio equipment. I record myself at home. I have been learning to use audio editor," she said.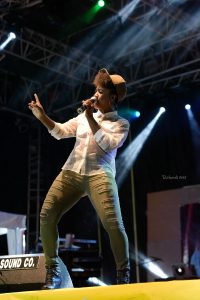 All this work has culminated in a seven-track mixtape, appropriately titled 'Piece of my Heart' which she intends to release in April 2018. Leading up to the release, Jackie will give sneak previews of her new sound by releasing three singles. "Before, I didn't even know what type of artist I was. People put me in their own box but even I didn't have an identity, I was experimenting. Now I have a deeper understanding and what messages I want to convey. First, I am Guyanese so my next body of work will be based on our culture, our history and the things that make me 'Jackie'," she said. "Being Guyanese makes you extremely special, we are part of the Caribbean but we are located in South America… as an artist that can cause a type of identity crisis. I realised I had to focus on one thing."
New direction
Previously, Jackie had also been vocal about her decision to be her own manager due to difficulties she had encountered in the past, but now, seeing just how much of a job it is, she has learned that it is not a show she can lead by herself.
"I now see the benefit of having a manager, someone with knowledge of the industry, with enough finance and somebody with passion who believes in me. You don't always find people with those qualities, but it's finding the right person. I had some unfortunate encounters but I learned a lot from them. I do find a manager to be very valuable at this stage and I look forward to finding someone who can fill those shoes," she said.
And her time away has also taught her some other valuable lessons, including just how much social media can consume our lives. "I would suggest that people challenge themselves to be more involved in life as it is happening… [social media and cell phones are] stealing your time, your life…live life as it is happening," she said. As for her supporters, all Jackie asks is for forgiveness for disappearing without warning. But she assures the public that now that she is back, it is with a reinforced passion and drive to be her best self, which she is confident will help her to produce the best quality of Guyanese music.