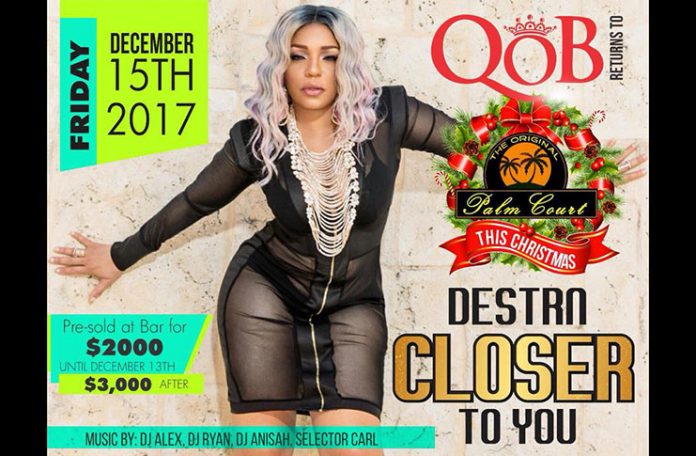 It seems we're going to have a lot of Caribbean artistes gracing us with their presence in the Land of Many Waters this weekend, so it's going to be one pumped up couple of days! And that's just a few of the things going on this weekend.
It all starts with Destra tonight when she returns to Palm Court! Tomorrow it's going to Skinny Fabulous at Palm Court and Demarco over at 704
The Christmas events, of course, continue too, so Moray House is having their Christmas concert tonight with a nice line up of Guyanese artiste set to perform, so if you have the time head over and check them out!
Massy Stores is also spreading some Christmas cheer with a Christmas fair that the kids are going to love!
Today
The Queen of Bacchanal returns to Palm Court! It's "Closer To You" featuring live out of Trinidad, Destra! DJ entertainment by DJ Alex alongside Palm Court resident DJ Ryan, DJ Anisah and Selector Carl. Enjoy bucket and shot specials! Tickets: $2,000 (pre-sold), $3,000 (at the door)
Moray House Trust presents their annual "Moray House Trust Christmas Concert" from 18:00hrs today! The event is organised by Russel Lancaster and will include performances by Gavin Mendonca, Francis Bailey and Nicasey Gordon-Abrams!
Caribbean Beat Restaurant and Bar is having it's anniversary Bar-b-que and Lime! There will be special prices on Stag Beer. Barbeque: $1,000 (served from 12:00hrs)
Massy Stores Guyana presents their "Holly Jolly Christmas Fair" to bring good cheer to the children of the Diamond Needs Special School. There's going to be TONS of fun activities such as Santa on site, Face Painting, Fun Christmas Activities and more! So be sure to bring out the kids to Massy Stores!
Youth Basketball Guyana presents Titan Bowl VII: Clash of the Titans at the Cliff Anderson Sports Hall! It's going to be the final battle of the year, with three days of excitement!
Tomorrow
His talent is versatile pushing the boundaries of Caribbean music around the world! And this Saturday "When the Lights Go Down" Skinny Fabulous performs for the first time at Palm Court! Enjoy bucket and shot specials! Everyone FREE before 22:00hrs! Music by DJ Shizzle, Selector Carl and Selector Diamond! Tickets: $2,000 (pre-sold), $3.000 (at the door)
Club 704 presents "Glow" featuring Jamaica Dancehall superstar Demarco! Enjoy specials on Moet White Ice! Music by DJ Tallest, DJ Avalanche, DJ Breeze.