–to effectively tackle transnational, trans-regional crimes–CANSEC forum hears
AS TOP security officials from 20 nations gather in Guyana for the 16th annual Caribbean Nations Security Conference (CANSEC), the region's stakeholders are being urged to strengthen and deepen collaboration to rid the region of transnational and trans-regional crimes.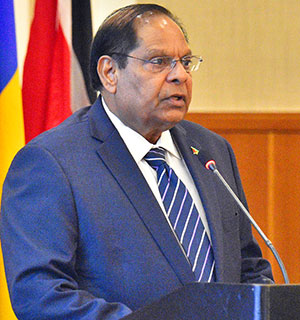 Themed, "Unifying regional action to counter trans-regional and transnational threat networks," the two-day conference, which Guyana is hosting for the first time, is aimed at developing a master plan to tackle cyber-crime, terrorism, and piracy, among others.
The region's defence and public security leaders were called upon by Chief-of-Staff of the Guyana Defence Force, Brigadier Patrick West to continue to forge stronger ties with the aim of putting a halt to criminal networks.
He told the participants gathered at the Guyana Marriott on Wednesday that the conference which is geared at examining threats to the region's stability, sharing information about operations and strategies, and defining avenues for better collaboration to strengthen security in the Caribbean, will see the region being better prepared to tackle instances of piracy, terrorism, climate change and cyber-crime.
He noted the growing number of threats from non-military sources while pointing out that CANSEC has been a sounding-board and a place of unifying action against these threats.
Notwithstanding the existing partnerships, the Army chief made it clear that the region continues to struggle to adequately address the challenges of the 21st Century.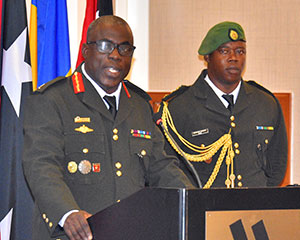 "Evidently, we have noticed that organised networks are seeking to profit at all costs from the illegal sales, offer and or trafficking of drugs, humans and weapons and from the trading of other illegal commodities.
"At the same time conflict groups are being increasingly funded by extreme groups, illicit trade and illegal activities," he stated.
Brigadier West believes that extremism in all forms must be mitigated to provide an enabling environment for growth and development in the region. Pointing specifically to cybercrimes, the chief-of-staff told the gathering of security experts that the region has experienced and continues to be challenged by the increasing threats of cyber-crime.
"The security forces are in many instances way behind the perpetrators of these crimes and we need now more than ever to be able to be in step with or ahead of this new level of technological challenge within the region. These networks are growing, their reaches are expanding, porous borders and powerful non-state actors challenge bilateral arrangements such as these."
He noted too that as criminal network grows, the region's security apparatus must also grow and "As they find ways to exploit security weakness, we must strengthen our bond." Brigadier West also called on the region's security forces and other stakeholders to seek to find new ways of dealing with the new and emerging challenges and to find ways to break their linkages.
POOL RESOURCES
"We cannot wish away these issues nor must we allow ourselves to develop any type of inertia. We must be energised to disrupt the information flow and lines of sustainability of organised criminal networks. We must commit to pooling our resources and provide assistance to each other in times of environmental and other crises," he declared.
He noted the importance of formalising plans, strategising and operationalizing that which has been envisioned, while calling on the participants to use the conference to identify challenges and work on solutions.
"Let us be honest about our short-comings and find real workable solutions about what is available to each of us individually, collectively as a region, and what can be reasonably expected from other partner nations."
Guyana, he said, has played and will continue to play a role in regional security as he pointed to the Defence Board which has committed to being of assistance at any time.
"Our partners must be committed to strengthening our weaknesses because our vulnerabilities will create challenges for them, since we provide the gateway for many illegal activities which occur in North America and Europe."
"The results of the two days of this course must engender determination to ensure a closer relationship, to ensure fervency of efforts to bring solutions and have firm commitments to deal with known and unknown threats," he concluded.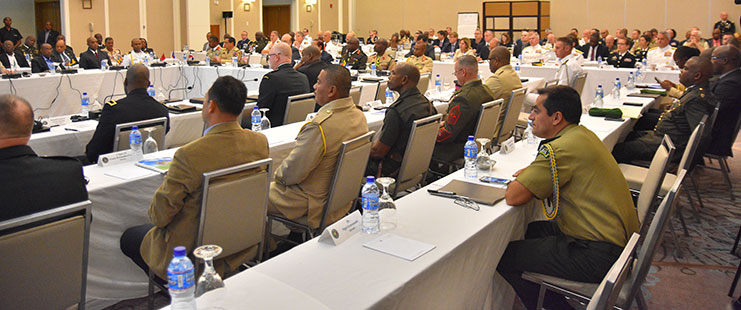 PEACE ZONE
Similarly, Prime Minister Moses Nagamootoo called on the security top brass to ensure that the region becomes a peace zone. Nagamootoo, who performed the duty of acting President said the region needs to be free from the scourge of money laundering, piracy and other illicit activities.
In his address to CANSEC, the prime minister, like Brigadier West, emphasised the need for stakeholders to cooperate, thereby allowing for safe communities and a safe and secure region.
"We need your cooperation to continue to make our region a zone of peace, a zone that is free from the scourges of money laundering; shouldn't be seen as a haven for dirty money, scourge of piracy, a scourge of terrorism. We want to keep our region clean and secure," the Prime Minister said.
"But we cannot do that alone. CANSEC offers us one significant platform where we can share our resources and pool our ideas. Yes, we can become a viable part of the world," he continued.
Meanwhile, the prime minister outlined Guyana's developments with respect to the security sector and noted that all of its accomplishments thus far have been as a result of partnership. He pointed to 2015 when the Coalition Government took office, and noted that there were cries of a slowing economy.
"I have been saying in the National Assembly that we are slower but better. We have made a resolve upon assuming office that we would smash the system where Government was compromised by the drug lords. Where they participated actively in national security, where the judiciary, magistracy and the security forces themselves were at threshold of being comprised."
Over the last 30 months, the prime minister said his Government has seen some of the biggest interceptions of illicit drugs and have been able, even with very limited resources, to waylay illegal flights and aircrafts into Guyana, detect illicit airstrips, and intercept large trafficking shipment.
"When we look back where we started 30 months ago, when we ask can we do it, we can answer positively; yes we can. We have been able through networking, sharing of intelligence, usage of computer, and with the fascination that accompany computers and the information they provide us, to be able to intercept those who have been involved in acts of piracy," he stated while noting the power of intelligence sharing.
STRONGER NETWORKING
Meanwhile, Commander, United States Southern Command (SOUTHCOM), Admiral Kurt Tidd acknowledged the need for stronger networking.
"We hope to deny criminal networks sanctuary and freedom of movement. By integrating and sequencing our respective operations and activities, we can sustain pressure against illicit networks and aggregate the impact of individual mitigation and preparation efforts," Admiral Tidd stated.
He noted that the world is driven by networks, while noting that they are a defining characteristic of "our daily lives".
"We rely on them. We're part of them and we're threatened by them.
"The evolution of networks–in all their forms–is reflective of the profound change happening all around us. Everywhere we look, we see volatility, uncertainty and interconnectedness of challenges. Regional and global risks are materialising in new and unexpected ways.
"We see both traditional and non-traditional threats co-existing and reinforcing one another. We see state and non-state actors competing for influence and challenging democratic values. And we see the rising frequency of extreme weather events and their far-reaching impacts on our people and economies," said Admiral Tidd.
He noted that though the security cooperation within the region has evolved and grown beyond individual and bilateral organisations like the Caribbean Community (CARICOM), the CDEMA, IADB and partners from across the Atlantic, including the UK, the Netherlands and France.
"This network was born of sustained engagements that emphasise collective action and cooperative solutions. It is built upon the foundation of information sharing. It is inclusive and principled, binding together like-minded nations who share common values and a commitment to work together," he stated, pointing to varying training programmes and operation exercised.
He noted that the collective investments made are not just investments in shared security and prosperity, but are investments in one another.
"The payoff of these investments is stronger partnerships, deeper trust and increased unity of effort. Our hemisphere is more secure, and our forces more capable because of them. We know more, share more and do more because of close, regular engagement," he stated.
Admiral Tidd noted that moving forward, the question of the next step in the network's evolution has to be asked "How to expand it, sustain it, and connect it to other network's evolution…how to improve sharing agreements to match the challenges we face, increase collaboration across countries, areas of expertise and unique skill sets of civil society and the sector?"
The SOUTHCOM said too that aligning security efforts, community resiliency is not only improved but the criminal networks sanctuary and freedom of movement is denied.
"By integrating and sequencing our respective operations and activities, we can sustain pressure against illicit networks and aggregate the impact of individual mitigation and preparedness efforts. Any by doing all this together as one network, we can also build another network…an interconnected network of security, prosperity and resiliency that extend throughout the Americas," said the SOUTHCOM.
CANSEC is sponsored annually by the United States (US) Southern Command (SOUTHCOM) and has seen participation by Guyana and the United States, along with Antigua and Barbuda, the Bahamas, Barbados, Belize, Dominica, the Dominican Republic, Grenada, Haiti, Jamaica, St. Kitts and Nevis, St. Lucia, St. Vincent and the Grenadines, Suriname, and Trinidad and Tobago. Nations participating as observers include Brazil, Canada, France, Mexico, the Royal Netherlands, Spain, and the United Kingdom.
Also present at Wednesday's opening ceremony was U.S. Ambassador Perry Holloway, Ministers of State and Natural Resources, Joseph Harmon and Raphael Trotman, along with several former army chiefs.