— they should not ride in police vehicles, Commander Alves warns
BERBICE Divisional Commander Assistant Commissioner Lyndon Alves has said that a zero-tolerance approach will be taken against cops who use police vehicles to take their wives, "sweet woman" and "sweet man" to the markets.
He issued the warning at the handing over of 10 4×4 Foton Tunland pickups gifted by the People's Republic of China to the Government of Guyana on Wednesday at the Divisional Headquarters in New Amsterdam.
Alves said local administrators will ensure that due diligence is done at all levels, including the stations, the sub-divisional officers' level and at the level of headquarters.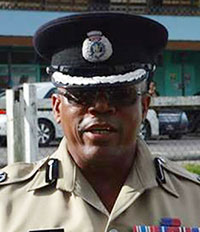 Once a week, station sergeants are required to ensure that inspections are done, while on the last Saturday of each month, there will be inspection at the level of commanders .
"Persons will be held accountable. The administration has developed a checklist … a hand-over, take-over form which must be filled out at the end of tour of duty. The persons who are taking over are to ensure there is no infraction such as   broken lights or missing parts. If so, it must be reported immediately and persons will be made to pay," he said.
He added: "We must understand it is not business as usual. If we had to wait on the Government of Guyana for 10 brand new vehicles, we would have been waiting for a lifetime. We respect the input government made to the People's Republic of China, so we must care these vehicles. We must give quality service and timely intervention to the people of Guyana. I am looking forward to getting calls from members of the public.
All who are bent on being reckless that these vehicles will not serve the purpose in this division will be dealt with. But you will be assured this management… indiscipline, and insubornation, will not be tolerated," he stressed.
The vehicles will be distributed throughout the length and breadth of the division from Abary, West Coast Berbice to Sister's Village, East Bank Berbice to Moleson Creek, Upper Corentyne.
And to ensure accountability, each vehicle will be marked with the respective station's name and telephone number along with the 911 number.
Deputy Commander Edmond Cooper said the vehicles will enable the division to respond to crime in more timely manner.
Among those who attended the handing-over ceremony were Regional Chairman David Armogan, Regional Executive Officer Kim Williams, members of the business community and the Disciplined Forces.