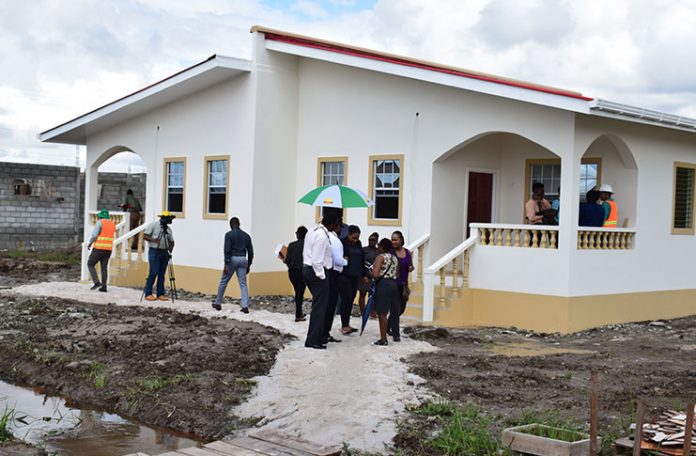 ANOTHER batch of applicants is closer to realising their dreams of owning their own homes, the Central Housing and Planning Authority (CH&PA) said on Wednesday, hours after a facilitated-tour of the first batch of move-in ready duplexes constructed at Perseverance, East Bank Demerara.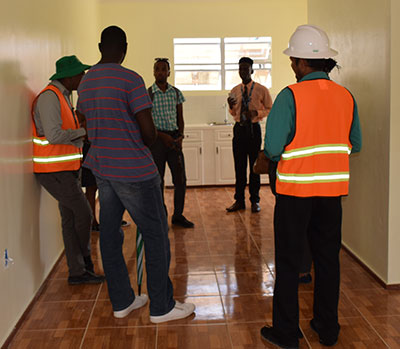 The housing units which are at varying stages of construction, were toured by applicants who were prequalified by financial institutions and representatives of two commercial banks: Republic Bank and Citizen's Bank.
Project Engineer Randolph Hunte, who led the potential beneficiaries on a guided tour, said the new construction is a modified version of what was showcased at the Housing Solutions 2017 and Beyond Exhibition held in May.
"To increase the level of comfort for the homeowners, we have tiled the houses and installed a water tank. The installation of the tank will be cost-saving for beneficiaries. Also, each unit will have its own septic tank," Hunte explained.
All the houses under construction will be the same, but the finishes will be different, such as the internal paint colours and tiles.
"Everything selected will be satisfactory to the beneficiary. Beneficiaries basically just have to move in, bring their furnishings and live," he added.
In the coming days, the agency will be making contact with the applicants to begin the process of preparing agreements of sale to be taken to their financial institution of choice. The units are expected to be completed by the end of December. CH&PA said the duplexes are just one of a range of solutions being offered by the agency.
Already for 2017, the CH&PA have piloted six duplexes, two elevated single family houses; issued 2,116 land titles; regularised 322 squatters; and allotted 381 house lots.
With one month left before 2017 comes to an end, the housing authority is hoping to distribute in excess of 400 houselots that are currently available.
However, preference is being given to applicants whose applications have been in the system since in the 1990s and early 2000s. Currently, there are approximately 50, 000 applications in the system.
In 2018, the housing authority would be utilising a US$30M loan from the Inter-American Development Bank (IDB) to facilitate infrastructural development, the construction of 250 core houses and the disbursement of home improvement subsidies, as it seeks to meet the needs of the poor and working class.