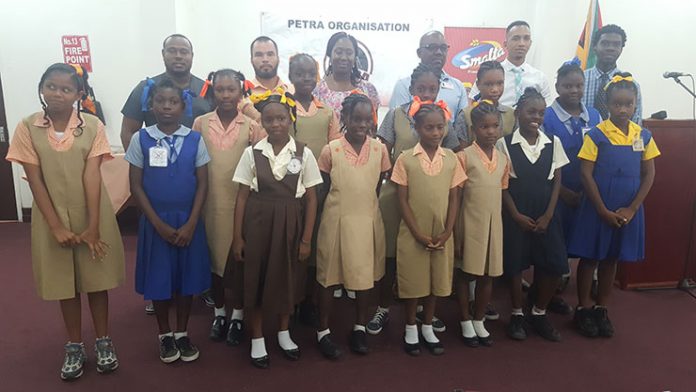 WITH the strict aim of ensuring that more females enjoy the game of football and have healthy lifestyles, the fourth Smalta Girls U-11 football tournament was launched yesterday.
At a brief ceremony at the National Library in Georgetown, the tournament is set to begin on Saturday with sixteen teams participating.
According to the director of the Petra Organisation, Troy Mendonca, the tournament, which will feature sixteen primary school teams, will take on a different dimension.
"It makes us happy to pull off another tournament that will assist in the development of women's football," Mendonca added.
GFF vice-president Rawlston Adams contended that the initiative is one that fits hand-in-hand with the federation's drive to give the women an equal opportunity at development.
He added, "Team sports help young people and teach them accountability among other things," adding that while the Ministry of Education has been doing work on ground enhancement, there is still some more to be done.
From the Federation's standpoint also, Adams believes that they too can do more and are doing more to support women's football locally.
Oneka Scott, Adolescent Health Coordinator within the Ministry of Public Health contended that the tournament will serve as a basis to promote the vaccine to fight against the Human Papilloma Virus (HPV).
"On the dawn of launching another football tournament for our female athletes, we are using this platform to also promote the HPV vaccine."
She contended that Guyana cannot be left behind as the rest of the world moves forward with protecting young women.
Title sponsor, through representative Sean Abel, added that the entity is once again pleased to be on board with the tournament adding that its support also hinges on the movement behind the issue of HPV
Ministry of Education Department of Sport Coordinator, Nicholas Fraser stated that while he echoes the statements made by those before him, he is glad to see so many women rushing to get involved in sport.
The tournament begins this Saturday at the National Service ground from 10:00hrs.