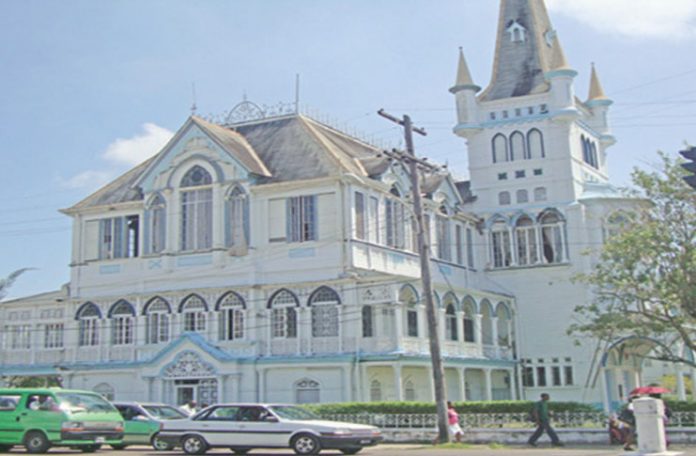 WITH salaries outstanding again to workers of the Mayor and City Council (M&CC), Deputy Mayor Lionel Jaikarran has persuaded a delinquent tax payer to come forward and settle his accounts to the tune of more than $7M.  Jaikarran, at Monday's statutory meeting, said he was able to solicit the money through his office and 'good name.'  While refusing to name the tax payer, Jaikarran said the individual was owing for years, had been out of the country, and made the payment through his lawyer.
"They made restitution so they're now square with the city council. We can now pay our workers," he said.  While handing over the cheque to Deputy Town Clerk, Sharon Harry, Jaikarran said his heart went out to the workers who were not paid in a timely manner for September, and now for October.  He said he empathised with them because he knew how difficult it could be for those who have to live from pay cheque to pay cheque.
It is not clear if the money garnered will be adequate to pay all of the council's workers.  Early in October, more than 50 workers turned up in City Hall's compound to protest the non-payment of their September salaries, along with a retroactive payment that was also due to be paid in September.  The workers were backed by General-Secretary of the Guyana Labour Union (GLU), Carvil Duncan.  Town Clerk, Royston King offered that the City Council was anticipating revenue from various new projects that have either been stopped or suspended, and that will help the M&CC to meet its obligations.
The controversial parking meter project was one project that the government deemed necessary for suspension. Furthermore, King said that the M&CC has been writing to the Ministry of Finance for a new valuation of properties to be done in the city, so that the City Council can benefit from increased rates and taxes. The gigantic Teleperformance building, for instance, is paying the M&CC a mere 16,000 in taxes each year, King pointed out. There has been no valuation of properties for more than 20 years.
"There is [sic] a number of other agencies that must work with us. Again, Giftland Mall – we're not receiving any money from them," King noted.
Following the meeting, Duncan told reporters he could not understand why the M&CC has been hiring more workers when it cannot afford to pay those it has. He claimed that there are more staff in the office than those who are actually out in the field working.