GROS ISLET, St Lucia, (CMC) – Guyana Jaguars made it a little messy in the end but rattled off their second straight win in the Regional four-day championship when they defeated Windward Island Volcanoes by seven wickets inside three days here Saturday.
The three-time reigning champions limited the hosts to 244 all out in their second innings, with frontline left-arm spinner Veerasammy Permaul claiming four for 53 and West Indies A fast bowler Keon Joseph picking up three for 53.
Nineteen-year-old seamer Sherfane Rutherford supported with two for 50 to end the match with an eight-wicket haul.
Former Test batsman Kirk Edwards top-scored with 54, Kavem Hodge got 44 while skipper Tyrone Theophile scored 37 and Shane Shillingford, 36.
Set a mere 39 runs for victory, Jaguars lost three wickets before stumbling over the line, to follow up their victory over Jamaica Scorpions in Georgetown last weekend.
Resuming the day on 54 for one – still 152 runs behind – Volcanoes suffered an early blow when Theophile fell in the day's second over after adding a single run to his overnight 36, edging Joseph to Rajindra Chandrika at second slip with the score on 58.
Edwards then anchored a key 58-run, third wicket stand with Roland Cato, who made 19, as Volcanoes rebuilt.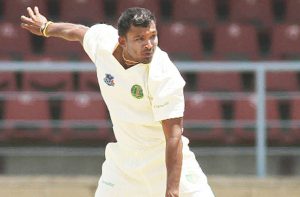 The right-handed Edwards faced 80 balls and struck four boundaries before becoming the first of two wickets to fall in the space of seven balls when he was smartly caught at first slip by Chandrika off Rutherford.
Cato followed soon after to leave Volcanoes on 120 for four but Hodge arrived to prop up the innings in a 43-run, fifth wicket partnership with wicketkeeper Gian Benjamin who made 17, before adding a further 35 for the sixth wicket with Shillingford.
Hodge struck five fours in a 96-ball knock before he was sixth out, playing on to Joseph, sparking a slide that saw the last five wickets fall for 46 runs, as Permaul ran through the tail.
Jaguars then made things difficult for themselves as they lost a handful of wickets before reaching their target.
Chandrika top-edged an ill-advised pull at a short ball outside off-stump from pacer Obed McCoy and was caught by Hodge at short leg for seven with the score on nine.
With the score on 25, Chandrapaul Hemraj fell for seven, nicking an uncertain prod at pacer Ray Jordan (2-23) and captain Leon Johnson flashed at a wide one from the same bowler and was taken at gully by Audy Alexander for four, with five runs added.
VOLCANOES 1st innings 151
Jaguars 1st innings 357
Volcanoes 2nd Innings
(overnight 54 for one)
D Smith c Rutherford b Joseph 0
*T Theophile c Chandrika b Joseph 39
K Edwards c Chandrika b Rutherford 54
R Cato c Johnson b Shepherd 19
K Hodge b Joseph 44
+G Benjamin c Vishaul Singh b Permaul 17
S Shillingford c wkp Bramble b Permaul 36
A Alexander c Chanderpaul b Permaul 11
R Jordan c Permaul b Rutherford 11
S Lewis lbw b Permaul 0
O McCoy not out 0
Extras (b3, lb6, w4, nb2) 15
TOTAL (all out, 65.3 overs) 244
Fall of wicket: 1-10, 2-58, 3-116, 4-120, 5-163, 6-198, 7-211, 8-236, 9-237, 10-244.
Bowling: Joseph 16-4-53-3, Shepherd 13-5-43-1, Hemraj 1-1-1-0, Paul 7-0-36-0, Permaul 20.3-5-53-4, Rutherford 8-1-50-2.
JAGUARS 2nd innings (target: 39 runs)
T Chanderpaul not out 11
R Chandrika c Hodge b McCoy 7
C Hemray c wkp Benjamin b Jordan 8
*L Johnson c Alexander b Jordan 4
V Singh not out 8
Extras (w2, nb1) 3
TOTAL (3 wkts, 14.5 overs) 41
Fall of wickets: 1-9, 2-25, 3-30.
Bowling: McCoy 3-1-8-1, Jordan 7-1-23-2, Cato 4.5-0-10-0.