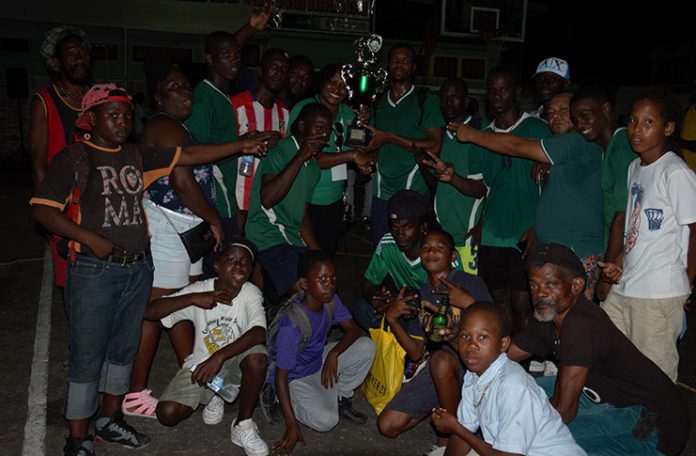 – large turnout enjoys Diamond Jubilee celebrations
LINDEN's Swag Entertainment was crowned the People's National Congress Reform (PNCR) 60th Anniversary Futsal Champion after squeezing past Bent Street by a 2-1 margin in the final last Sunday at the Mackenzie Sports Club (MSC) Hard Court, Linden.
Watched by a large gathering of supporters and well-wishers, the two finalists, despite a scorching first period went to the break with none managing to score, thereby setting up an anticipated and riveting conclusion and they did just that.
Swag Entertainment's Shane Luckie broke the deadlock in the 12th minute when he unleashed a stunning left foot volley from just outside the penalty area to grab the lead for the host.
Four minutes later he was back in action with another strike of quality, firing a fierce left-footer into the goal from the left side.
Bent Street's John Waldron made the clash interesting when he netted in spectacular fashion in the 18th minute, but that was all in vain as the final whistle sounded two minutes later to hand Swag Entertainment a well-deserved victory.
Swag Entertainment was presented with the winning trophy by Chairperson of the Organising Committee, Minister Annette Ferguson, who committed to hand over the $200,000 first prize at a later date.
Bent Street received the runner-up prize of $100,000 and trophy, while Broad Street and Ol Skool collected $50,000 and $25,000 respectively for their third and fourth place finishes.
Earlier in the semi-final action, Swag Entertainment beat Ol Skool Ballers 3-2 with Keon Sears firing in a brace, while Deon Charter added the other. Roy Cassou and Joel McGarrell netted for the losers.
Bent Street defeated Broad Street 3-1. Travis Lyken, Sheldon Profit and John Waldron were the goalscorers, while Anthony Barrow netted the lone response for Broad Street.