IN what could be described as the most thrilling and exciting cricket finals ever organised by Guyana's leading youth and sports organisation, the Rose Hall Town Youth & Sports Club, MS, Grill Master defeated Spartan by one wicket to emerge the 2017 Champions of the Busta Champion or Champions softball tournament.
Played in front of a large and colourful crowd at the Area 'H' Ground in Rose Hall Town in glorious weather, Grill Master held their nerve to clinch victory with two balls remaining and the last pair at the wicket.
Grill Master won the toss and elected to bowl first in the 12-overs final. Spartan reached a formidable 141 for 6 off their allotted 12-overs with Krishon Sukhai 43 (3 sixes and 2 boundaries), Joshua Diaram 34, being the principal scorers.
In reply, Grill Master was fortunate that opener Keith Fraser was dropped by Kishan Gangaram off the first ball of the innings. Fraser and fellow opener Vishal Phillips then punished the Spartan bowlers to all parts of the ground, adding 69 runs off just 5.3 overs before Phillips was dismissed for 30.
Fraser went on to top score with 44 before he was second out at 85 for 2 in the 8th over.
Grill Master lost their way as Balram Samaroo 04, Roy Jaferally 15, Devindra Ramoutar 00, Oliver Giddings 03 were dismissed cheaply to leave their team needing 36 from 3-overs.
Keon Sinclair (13) and Wahied Edwards (20) added 30 crucial runs in 2-overs before Sinclair was dismissed off the fourth delivery of the eleventh over.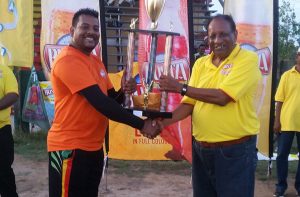 With the dismissal of Edwards, Grill Master needed six runs off five balls, but a composed No. 10 Steve Sampson struck a boundary to ease the tension.
John Percival was then run out for nought and the last pair was required to score two runs off two balls. A nervous Joshua Diaram then bowled two successive wides to hand victory to the relieved Grill Master Team.
Earlier in the day, Grill Master thrashed Terry Grocery XI by nine wickets in the first semi-finals. Terry Grocery XI batting first amassed 80 for 2 off ten Overs with Sanesh Sundar 32 not out and Khemraj Mahadeo 33 not out being the principal scorers. In response, Vishal Phillips 39 not out and Balram Samaroo 26 not out led Grill Master to 84 for 1 off 6.4 overs after Keith Fraser was dismissed early for 8. Spartan defeated Hard Knock by 7 wickets after restricting them to 60 all out. Only V. Emmanuel 21 and Ryan Braithwaite 12 reached double figures as Krishon Sukhai 2 for 10, Sunil Madramootoo and David Lukenauth 2 for 9 bowled well for Spartan. Lukenauth returned with the bat to score an unbeaten 30 to lead his team into the finals.
In the third place match, Hard Knock made light work of Terry Crocery XI to beat them by 8 wickets. Terry Grocery reached 63 for 5 off their allotted 8 Overs before skipper Eldine Mendonca with 33 not out led his team to the 3rd Place prize package.
Rose Hall Town Youth & Sports Club, MS, Secretary/CEO Hilbert Foster hailed the 14th edition of the Busta Champion of Champions Tournament as a resounding success and described the final as the best-ever witnessed in his 26 years at the Rose Hall Town Youth & Sports Club. .
General Manager of the Guyana Beverage Company Robert Selman, Commercial Manager. Arjune and Marketing Co-ordinator Raymond Govindan all praised the Rose Hall Town Youth & Sports Club for organising a Tournament that properly represented the Busta Brand.
Selman, stated the bond with the Rose Hall Town Youth & Sports Club was a huge success story for his Company and committed to a long term relationship.
The winning team received $150 000.00 and the Busta Trophy, the 1st Runner-up $75 000.00 and trophy, 2nd Runner-up $50 000.00 and trophy while Fraser received a financial reward and trophy after being named Man of the Finals. Fraser and David Lukenauth received special trophies after being named best batsman and bowler in the final respectively.
Funds raised by the Rose Hall Town Youth & Sports Club during the tournament would be used by its ten cricket teams to provide food hampers for less fortunate families during the upcoming Festive Season.