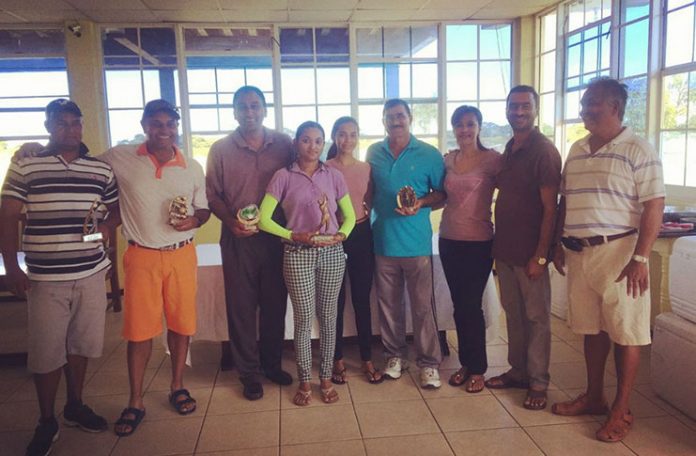 EMPHASISING that she is still in fine form, reigning two-time Guyana Open female champion, Joaan Deo, triumphed over a field of mainly male golfers to emerge winner of the inaugural Silica Sandport golf tournament.
Deo, the only female competitor in the Medal Play format tournament which was contested Sunday last at the Lusignan Golf Club contends that she is ready for the upcoming Guyanan Open.
She indicated that she had planned to perform well on Sunday, mentally preparing her for a great performance over the coming weekend's Guyana Open tournament.
Deo satisfied that she accomplished her plan and therefore by extension is serving all the female competitors notice that she intends to defend well!
Lusignan Golf Club president, Hilbert Shields, was on hand to congratulate the winners and golfers on their good performance and to thank (Pandit) Haresh Tewari of Silica Sandport, for their timely sponsorship of this tournament, one week before the Guyana Open.
Pandit Haresh, former Treasurer of the LGC, and himself an avid golfer who has won several trophies, was delighted to contribute to the preparation of golfers for this significant tournament of Saturday and Sunday November 4th and 5th coming.
Golfers in the winners' row were as follows. Best net places: 1st – Joaan Deo – Net 62, Handicap 21; 2nd – (Pdt) Rabindranath (Ravi) Persaud 66/21; and 3rd – Aleem Hussein – 68/17. Best Gross winner – Avinash Persaud, (defending Guyana Open male champion) parred the course for a second time within two weeks with score 72. Nearest to The Pin – approximately 3 feet -was Roger Rajkumar.