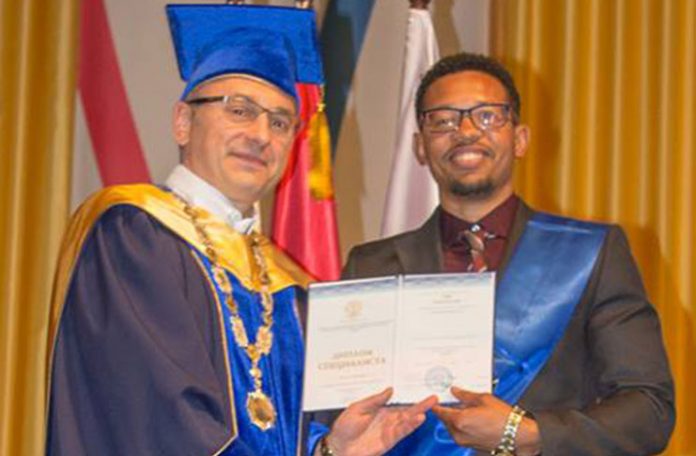 From small town boy to trained Geologist
"I honestly wasn't sure what I wanted to become, I was thinking about Geology, but still wasn't sure. What I was very sure about was what I didn't want to become. I didn't want to live an ordinary life, I didn't want to just exist, I didn't want to be what I would call a 'wondering generality', but rather a 'meaningful specific' in life," 27-year-old Kollis Smith said as he sat down for an exclusive interview with the Pepperpot Magazine.
For a moment, he thought about becoming a geologist, but his hopes of securing a scholarship from the Guyana Geology and Mines Commission (GGMC) came crashing down when his application was rejected, but as Alexander Graham Bell once said, "when one door closes, another opens."
It was not long after that Kollis, a village boy from the Upper Demerara-Berbice District, managed to secure a scholarship to study Geology in Russia from RUSAL Bauxite Company of Guyana Incorporated (BCGI).
Six years after, Kollis has returned to his homeland with a mission to help children realise their dreams despite how "crazy" or "unrealistic" they may seem.
WHO IS KOLLIS SMITH?
But who is Kollis Smith? For starters, he was delivered in the Kwakwani Public Hospital in Region 10( Upper Demerara-Upper Berbice), to Neomi Smith, a retired headteacher, and Terrence Smith, a logger, and the fourth of six children. But he actually grew up in a small community of about 12 families called Maria Henrietta.
"I attended Maria Henrietta's Primary. It was a school of 22 students at the time I attended. My class had only three students. The social status of our school was that of which everyone went to school barefooted…. At times I went to school by foot, other times by canoe," Kollis said, as he was walked down memory lane.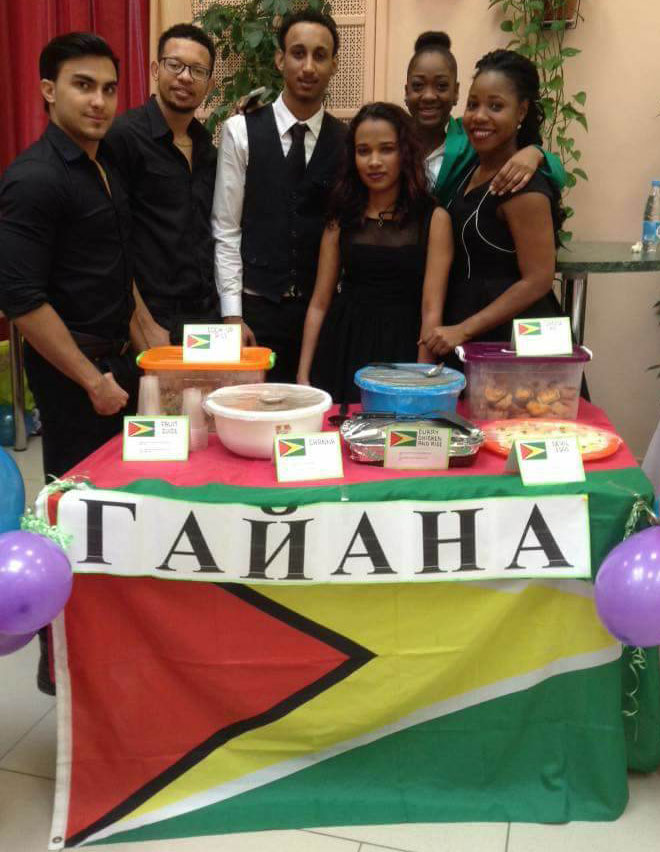 Attributing the "bulk" of his educational success to his mom, Kollis recalled that six months before the Secondary School Entrance Examination (SSEE) commonly called "Common Entrance" his mother took him under her wings.
"She had a vision for me of which I couldn't see," he posited, while reflecting on the many days he had little choice than to sacrifice his play time to study.
"Honestly it was the worst experience of my life. I thought she was punishing me unnecessarily. One Friday afternoon she had me studying at the school window. As was the custom, Fridays were 'games day'. So I sat there with my books in front of me, my mom on my back and tears in my eyes," he said.
It was his mother's desire for him to attend President's College, but unfortunately, he did not acquire sufficient marks to go to the prestigious educational institution. "But I did get enough marks to attend MHS [Mackenzie High School] by gaining the exact marks (463) for the year 2002."
His acceptance to Mackenzie High School meant that he had to part from his family and friends to attend school in the mining town of Linden. His parents, at the time, had decided to relocate to Aroaima – a bauxite mining community located further up the Berbice River, in the said district.
"Moving away from my family was extremely difficult for me emotionally, and I cried a lot. Eventually, I got used to living away, but the larger challenge for me was coping in an environment of which I was not socially equipped to handle. I felt more or less a bit of an outcast," Kollis said.
His inability to cope caused him to repeat Second Form and was on the verge of being "kicked out of high school" when he decided to be transferred to the Kwakwani Secondary School.
His mother initially objected but respected his decision in the end. For Kollis, that period of transition was a defining period, and he had come to the realisation that there was no need for him to limit himself.
"I spent about 18 months at Kwakwani Secondary, where I was among the top students in my class. I then told my mom that I wanted to go back to MHS. At that time I was supposed to enter Fourth Form, but Miss McDonald (HM), said I had to repeat Third Form because of the difference in standards of the two schools. In that moment I had to choose whether to stay in a higher school in a lower form or go back to a lower school and be in a higher form. With an eye on the future I chose to go back to Third Form," he explained.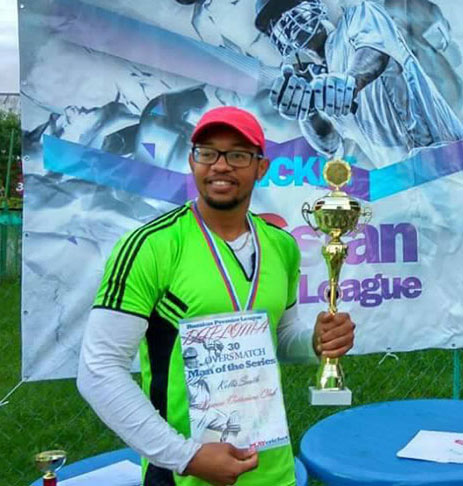 CSEC
In 2009 when Kollis wrote the Caribbean Secondary Education Certificate (CSEC) Examination, he secured passes in all eight subjects, gaining three Grade Ones, three Grade Twos and two Grade Threes.
It was at this stage; Kollis was not too sure which career path to take. Eventually, he decided that he wanted to become a geologist. "Around that same time, I started working with RUSAL, BCGI, as a warehouse distribution clerk. I didn't plan to stay there permanently. So I decided to apply to Guyana Geology and Mines Commission (GGMC) for a scholarship, fortunately or unfortunately, I was turned down," he recalled.
A few weeks later, his supervisor, Ms. Arleen Hunter, brought his attention to a notice published by RUSAL. The bauxite company was awarding scholarships to five 'children of workers' attached to RUSAL.
"Unfortunately I was not a 'child of a worker, since none of my parents were employed with the company," he said. But despite this requirement, it did not deter him. Kollis submitted his application with the belief that he was going to get through one way or another. "People were saying that there was no way I would be applicable for the scholarship, yet I kept the faith," he said.
With the help of RUSAL workers like Motilal Ramjag, Arline Hunter, and the Russian personnel officer, Elena Gorshkova, Kollis' new found dream of studying was made a reality. From a batch of about 35 candidates, Kollis was among the five selected to study geological engineering at the People's Friendship University of Russia (PFUR).
SETTLING IN
"We left Guyana on September 25, 2011. We were provided with a monthly stipend, as well as two clothing allowances within our six years stay. Moving to Moscow was an exciting experience but I must admit that there were challenges, which included getting used to the culture, language, food, climate and new roommates, who didn't even speak English," he said.
During their first year in Moscow, Kollis and his colleagues studied the Russian language along with additional subjects relevant to their speciality.
By November of that year, the Guyanese team was super excited to have their first snow experience but little did they know that it was not all fun.
"I remembered playing in the snow the first night it came, but then things got serious as the temperature went down to around -30 degrees Celsius. It was hard to breathe, blood came from our noses, and if you were to stay too long in the streets your toes and fingers were frozen," he recalled.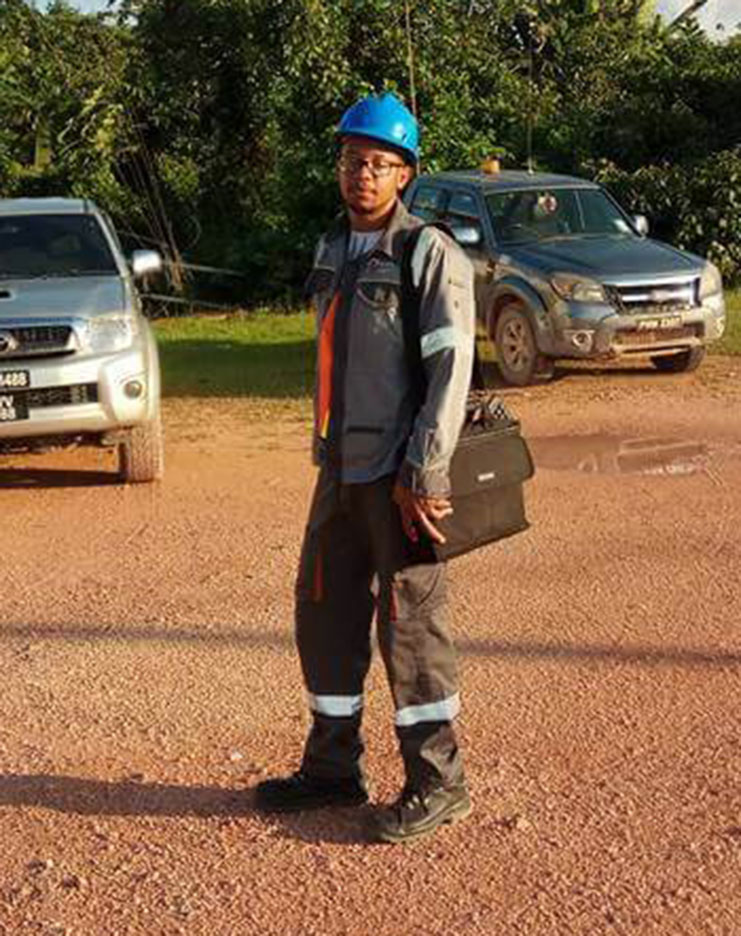 After successfully completing their first year, he and his colleagues were placed in groups with Russians and other foreigners.
"All subjects were taught in the Russian language. Honestly, the first course was the toughest, imagine dealing with a language that you haven't fully grasped then having to learn technical stuff in that language. I remembered being up all night studying, then drinking coffee just to stay awake next day, " Kollis said.
In addition to participating in educational activities which included exploration projects, Kollis was a "sportsman" and he used every opportunity to display his Guyanese talent.
He played basketball, football and did bodybuilding and track and field, but cricket was his favourite.
"During the summer I spent a great deal of my time playing semi-professional cricket for different clubs in Russia. Most notably of which was the Russian Cricket Club. The first year in which I took part, I helped my club to win both 20 overs and 30 overs championships. I must say that I forged quite a successful side career in cricket there and won many medals and trophies. But the one memory which I cherish most, is definitely when our West Indian Cricket Team, which I co-founded and managed, won the university competition for the first time in five years," Kollis said, with a sense of accomplishment.
During that tournament, he was voted the `MVP' ( Most Valuable Player ), as well as, `Best Batsman' making 192 runs in six games, one of which I made a century.
Then there were the many cultural events and with the support of his colleagues, when Kollis promoted Guyana's traditions and foods.
For him, the annual May Day picnic, which saw as much as over 100 people from various Caribbean countries and around the world, was his favourite. "We also exhibited Guyanese culture on a day called `Planet Yugo-Zapad'. There we showcased our cultural diversity, as well as foods."
After six years of dedicated studying with the support of family, friends and his professors, Kollis in 2017 graduated as a Specialist in Geological Engineering.
LESSONS LEARNED
"My time in Russia has thought me many lessons, mainly that everything is not as you hear or see on the news. I've been fortunate enough to have had the opportunity of meeting and interacting with many people of different religions, race, colour and creed, and what I've found is that they're a lot of really amazing people in this world," he surmised.
He returned to Guyana on August 23, 2017.
Even as he works diligently to serve RUSAL,as a token of appreciation for granting him an opportunity of a lifetime, Kollis says he will spend days and nights working with the youths of his community and region.
"I want them to see themselves and life for more than just existing, but that they have the power to go out there and live their dreams, despite however crazy or unrealistic as it might seem to others."
Additionally, he plans to build a gymnasium in Aroaima where everyone can be involved in health and fitness.
Currently, he is attached to RUSAL BCGI as a trainee geologist, along with doing a bit of translating for Russians who do not speak English.
"I've been working for just over a month so far, and I must say the work experience has been unbelievable."